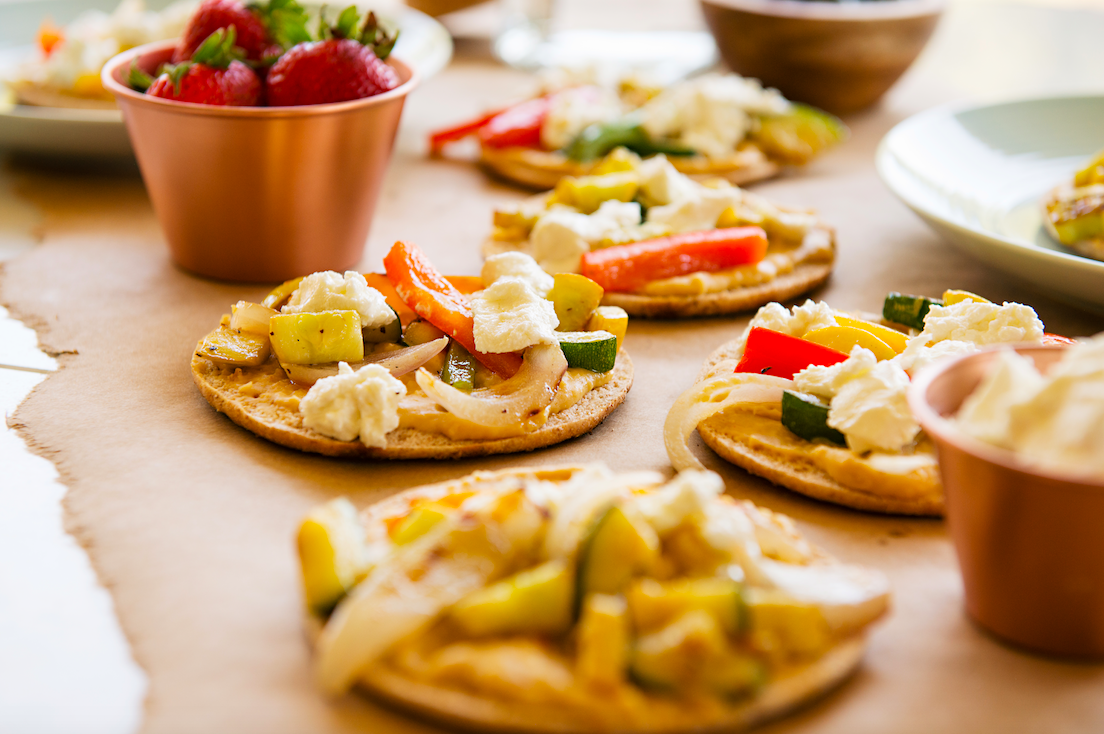 Grilled Goat Cheese Pizza

Hungry? Fire up the grill and enjoy this low-carb pizza with a surprising Mediterranean twist.
What You Need:
2 tsps butter

1 cup Texmati Rice

Ⓡ

1 red bell pepper

1 green bell pepper

1 yellow bell pepper

4 small zucchini, sliced lengthwise, 1/2″ thick

2 yellow summer squash, sliced lengthwise, 1/2″ thick

2 medium onions, sliced 3/4″ thick

Olive oil

8 oz Lone Star

Ⓡ

goat cheese (from deli)

4 sandwich thins, halved

1 container (10 oz) Sabra

Ⓡ

hummus
 How It's Made:
Heat grill and spray both sides of all vegetables with non-stick cooking spray.

Once grill is crackling, place vegetables over medium heat or 4-6 inches from medium coals. Cook 10-14 minutes, turning occasionally to brown evenly on all sides.

Spread a few Tbsps of hummus on each sandwich thin and top with grilled vegetables and goat cheese crumbles.

Once fully topped, place pizzas bottom-side-down on the grill for 1-2 minutes to make crust extra crispy.
Calories 476
Total Fat 20g
Chol 10mg
Protein 13g
Sodium 572mg
Total Carbs 65g
Fiber 13g
Sugars 20g
Ready to Start Shopping?
Get everything you need to make our Grilled Goat Cheese Pizza online or in-store!
Shop Online
Find My Store
Ready for a Second Helping of Health and Wellness?
Download our quarterly guide for an exclusive taste of the latest health and wellness trends, brought to you by Market Street's in-house nutrition experts.