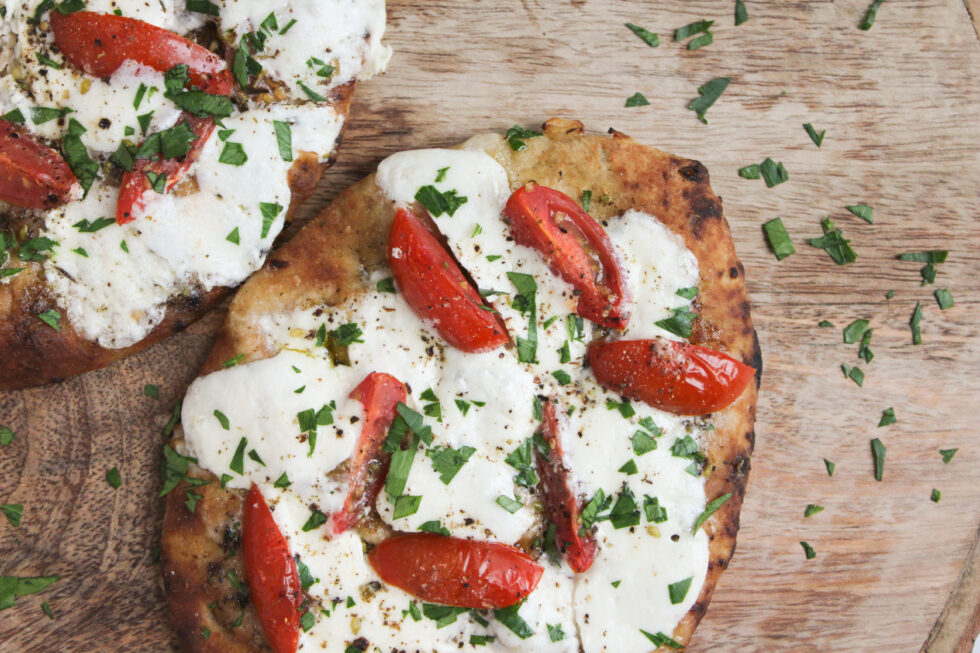 Grilled Naan Pizzas

Perfect for breakfast or snack, this grilled naan bread plays a mild twist on the lebense classic, man'oushe. If you're enjoying this as an afternoon snack, crack open a rose and sit on the patio and wait for this to grill up in no time.
What You Need
4 Naan Breads (if you can't find this, substitute Pita)
2 Tbsp. Olive oil
3 Tbsp. Zaatar (if you can't find this, substitute Italian Seasoning)
1 large Roma Tomato
4 oz. Mozzarella Cheese
⅛ c. Parsley
Salt and Pepper to taste 
 How It's Made:
Grill naan for 3 minutes per side

Brush olive oil evenly on all pieces

Sprinkle on zaatar evenly on all pieces

Dice tomatoes and top naan

Roughly pull apart mozzarella cheese in small stringy pieces

Place on a piece of aluminum foil

Let cheese melt and bubble, roughly 5-7 minutes
Calories 289
Total Fat 17g
Protein 10g
Sodium 436mg
Fiber 2g
Carbohydrates 26g
Ready to Start Shopping?
Get everything you need online!
Shop Online