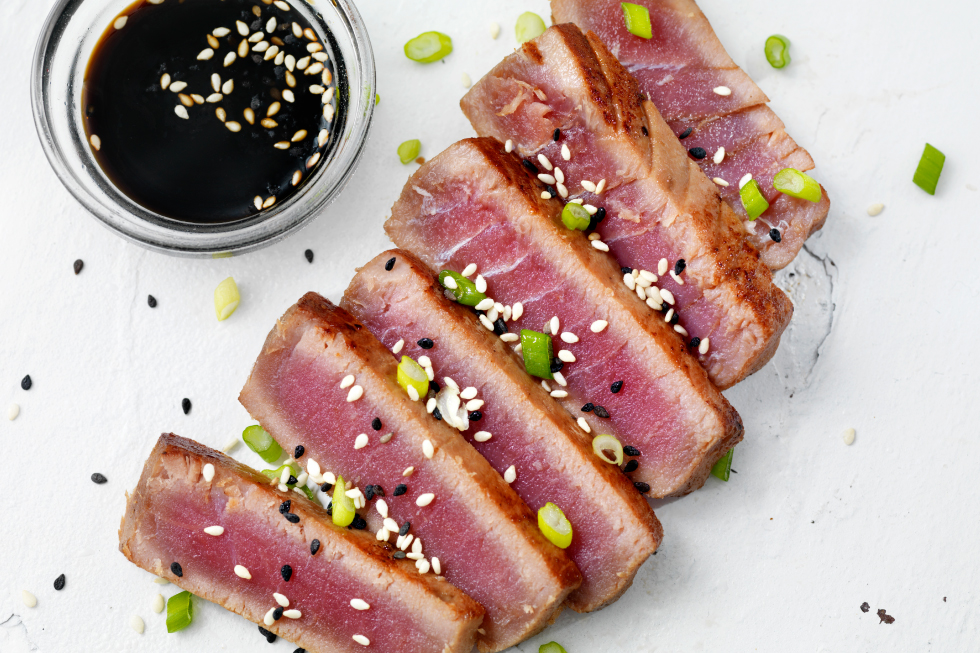 Grilled Tuna Steak

Tuna steaks can be one of those intimidating foods to cook because not only is it a type of seafood, but we also don't eat it as often as some of the other proteins. Well, we're here today to help guide you through it with just a few ingredients and directions. You can enjoy this protein with a DIY or premade sauce, on top of a salad or puree or even simply as a main dish accompaniment to the dishes
What You Need
4, 4oz Tuna steaks (about 1.5" thick)

Salt and pepper as desired

2 Tbsp. Olive Oil
 How It's Made:
Heat a skillet on medium-high heat

Place oil in the bottom of the pan to also get hot. To test readiness, get your finger tips wet with water and flick lighting on your pan. If the oil gently pops the pan is ready

Depending on the thickness of your steak start with 2 minutes per side to achieve medium rare. To achieve a more well-done steak cook for an additional 1 minute per side

Let steak rest for 5 minutes on a separate plate
Calories 180
Total Fat 7g
Protein 29g
Sodium 0mg
Fiber 0g
Sugars 0g
Ready to Start Shopping?
Get everything you need online!
Shop Online