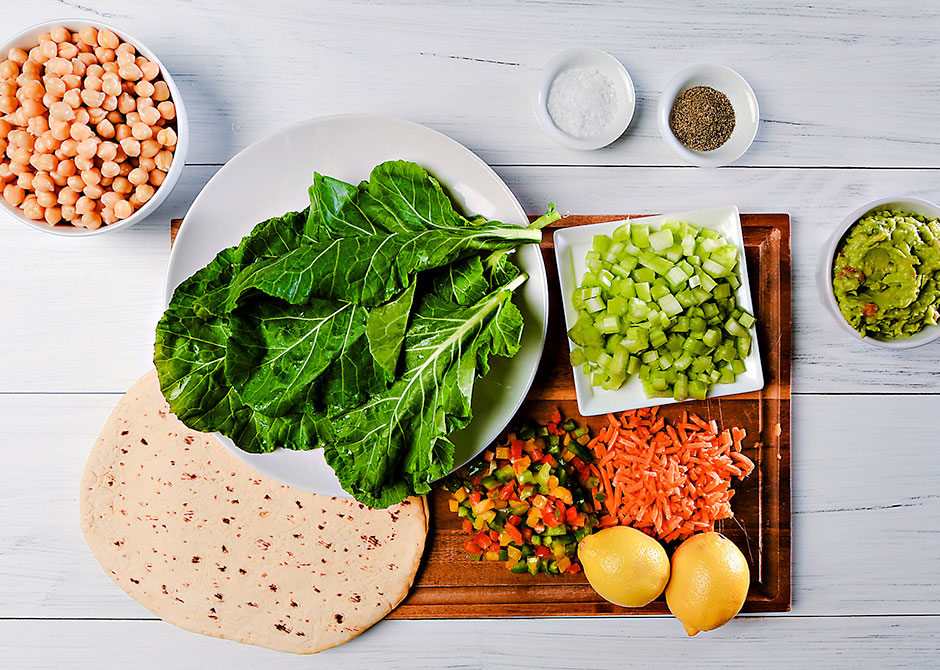 Guacamole Chickpea Salad Collard Wraps

This recipe for guacamole chickpea salad collard wraps is so good, it merits eleven syllables. Enjoy on the fly or meal prep them for work to fill up with a protein-packed lunch to help you power through 3 pm sluggishness.
What You Need:
2 cans of low sodium chickpeas, drained and rinsed
2 medium stalks of celery, finely chopped
1/2 cup fresh cut bell pepper
1/2 cup shredded carrots, roughly chopped
1 1/2 Tbsp. lemon juice
1 cup fresh-made deli guacamole
A pinch of salt
A pinch of pepper
6 collard leaves (Without holes/tears are best)
Package of Flatout FlatbreadⓇ
 How It's Made:
In a large bowl, mash chickpeas with a potato masher.
Add celery, bell pepper, carrots, lemon juice, guacamole, salt and pepper to the bowl, mixing until well combined.
Thoroughly rinse the collard leaves and gently shake dry, leaving a little excess water.
Remove the tough, lower stem. (If it has a large, protruding center rib, use a sharp paring knife to shave it off, making the rib even with the rest of the leaf.)
Place the leaves on a dinner plate, separating each leaf with a paper towel, and microwaving for 30-seconds.
On a plate, lay a collard leaf flat on one of your Flatout FlatbreadsⓇ and add a 3/4 cup scoop of the chickpea salad on top.
Fold in the edges and roll it up like a burrito before enjoying.
Get Cooking!
Shop everything you need for guacamole chickpea salad collard wraps online or in-store!
Shop Online
Find My Store
Ready for a Second Helping of Health and Wellness?
Check out our lookbook for an exclusive taste of health and wellness trends, brought to you by Market Street's Registered Dietitians and lifestyle gurus.