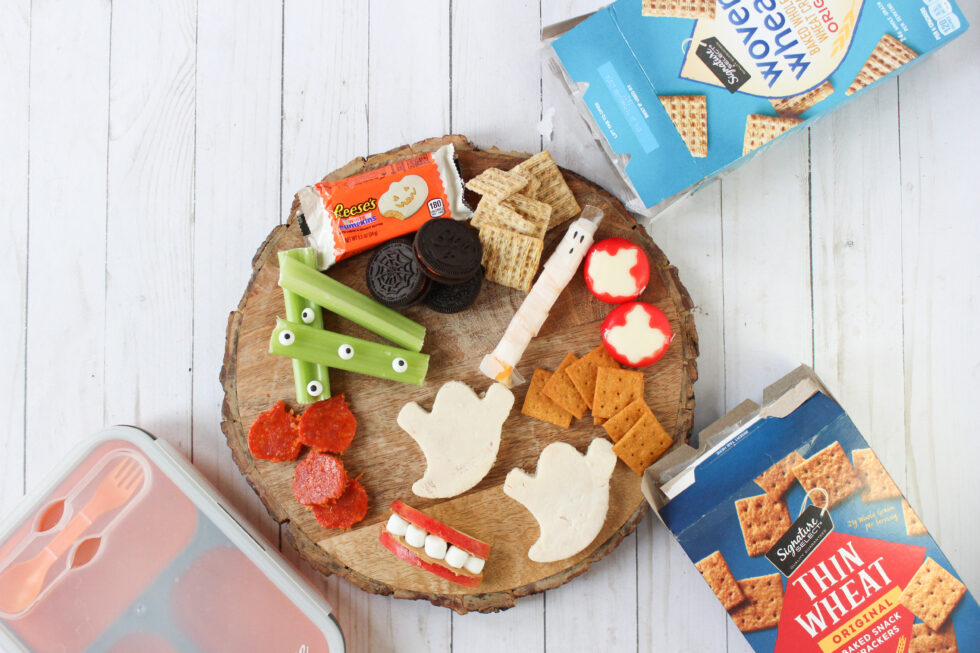 Halloween MyPlate Lunchable

If you're hosting for a group of just having lunch this is sure to get you in the halloween spirit. Create the perfect MyPlate: a dairy, protein, grain, fruit and vegetable!

So how do we accomplish this? When you head to the deli ask for them to cut your meat of choice about ⅛-¼ of an inch thick. When you get it home pull out your favorite halloween cookie cutters both big and small. We love ghosts, bats, and pumpkins to get us in the spirit.

For the crackers of choice we suggest finding the nut thins, whole wheat crackers, or woven wheats for some good fiber and delicious crunch and a crowd pleaser.

For fruits and vegetables, you can put  a candy eyeball on anything. Think sliced apples or celery sticks with a smidge of peanut butter to hold an eyeball smeared on to hold it in place. We transformed our apples into a marshmallow and peanut butter smile. Or if the skin isn't edible draw on a jack-o-lantern face of sorts.

For dairy try wrapping up a cheese stick in gauze or white medical tape and drawing on a simple ghost face. You could even cut the red wax from bella cheese to use another cookie cutter of your choice.

For the fun foods, you really have no shortage of these this time of year! We personally love a good color theme or festive find so the orange cream filled cookies, pumpkin shaped candies and pumpkin sugar cookies make the top of our ghoulish list.