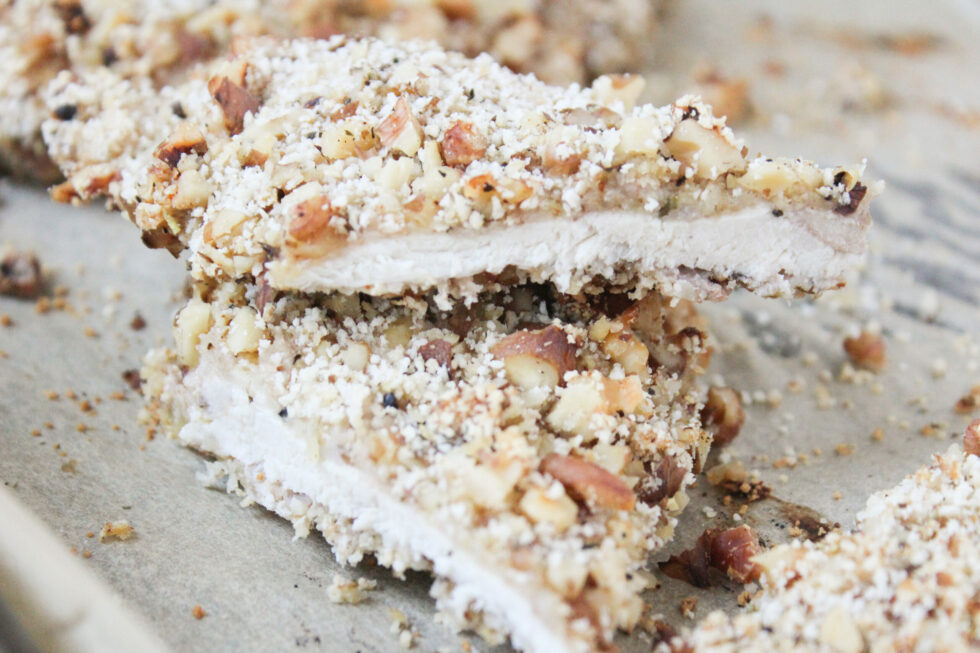 Honey Mustard Breaded Chicken

A twist on the honey mustard classic! While it may not be drenched in honey mustard it has subtle notes and juicy flavor with each bite. Pair this with a green salad or the orzo one we made earlier this month for a full meal!
What You Need
1 lb Chicken breast, thinly sliced
1 c. Walnuts
½ c. Panko
1 tsp. Garlic Powder
1 tsp. Italian Seasoning
¼ tsp. Cayenne Pepper
Salt and Pepper as desired
2 Tbsp. Milk
1 Tbsp. Honey
2 Tbsp. Avocado Mayo
3 Tbsp. Dijon Mustard
1 tsp. White Vinegar
Pinch Cayenne Pepper
 How It's Made:
Preheat oven to 375 degrees

Roughly chop walnuts

On a plate combine walnuts, panko, garlic powder, italian seasoning, cayenne pepper and salt and pepper as desired

In a separate bowl combine the milk, honey, avocado mayo, dijon mustard, white vinegar and paprika and mix

Dip chicken in the wet mixture followed by the dry mixture

On a parchment lined baking sheet place chicken

Bake for 14-17 minutes or until internal temperature reads 155 degrees
Calories 530
Total Fat 31g
Cholesterol 92mg
Sodium 507mg
Carbohydrates 20g
Fiber 2g
Sugar 5g
Protein 42g
Ready to Start Shopping?
Get everything you need online!
Shop Online