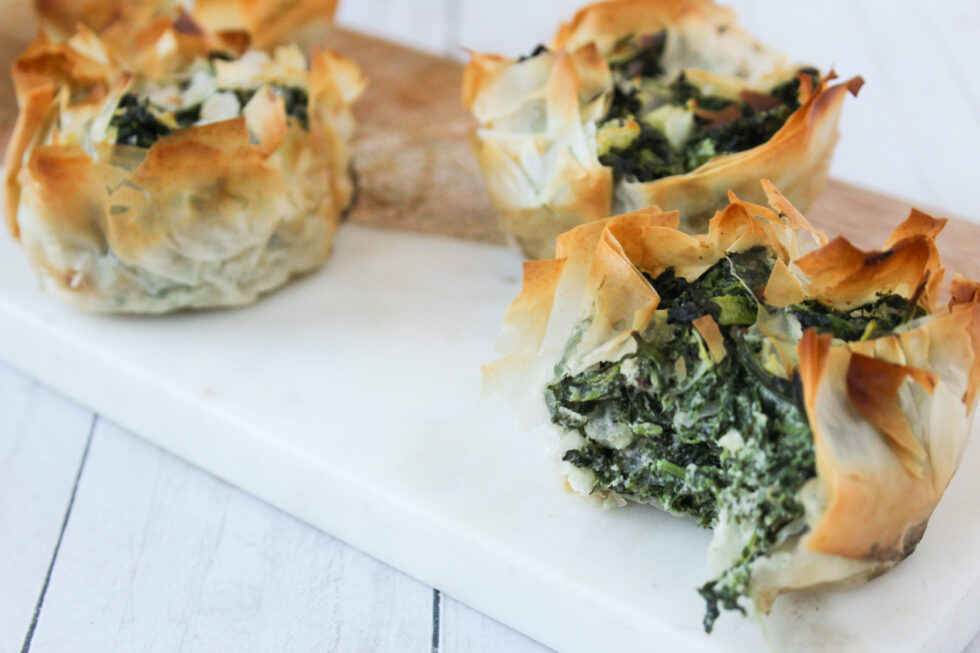 Individual Spanakopita Pies

It's 'National Pie Day; and we have the perfect "mini pies" to kick off your week of green! 
What You Need
Olive Oil Cooking Spray

1 Medium Onion

1 Leek

3 Scallions

2 Cloves Garlic

1 Tbsp. Garlic Powder

½ C. Fat-Free feta, crumbled

1 C. Fat-Free Ricotta Cheese

2 Large Eggs

2, 10oz pkgs Frozen Spinach, thawed and squeezed dry

1 bunch Parsley

3 Tbsp. Fresh Dill

2 tsp. Dried Dill

½ tsp. Black Pepper

Pinch of Nutmeg

Salt and Pepper as Desired

6 9 x 14-inch Sheets Frozen Phyllo, thawed in refrigerator
 How It's Made:
Preheat oven to 425 degrees fahrenheit

Dice onion

Slice leek in half lengthwise, then down the center, and finally slice into ribbons

Slice scallions

Mince garlic

Roughly chop parsley

In a large bowl, mix together the feta cheese, ricotta cheese, eggs, scallions until smooth

Mix in onion, leek, scallions, parsley, garlic, garlic powder, spinach, dill, pepper, and nutmeg

Spray muffin tin with olive oil

Working quickly, lay out a stack of 3 sheets of Phyllo dough. Cut the stack into 4-inch squares, so you have 6, 3-layered squares. Lightly spray the squares with olive oil and press into each of the muffin cups. Repeat with the remaining 3 sheets

Divide the spinach mixture evenly among the muffin cups

 Fold the overhanging phyllo dough into the center

Bake for 15 minutes until golden and set
Calories 170
Total Fat 2g
Cholesterol 70mg
Sodium 395mg
Carbohydrates 24g
Fiber 5g
Sugar 3g
Protein 20g
Ready to Start Shopping?
Get everything you need online!
Shop Online