Island-Inspired Entertaining

If you were looking for another excuse to host this summer, you're in luck: This tropical-themed dinner party is literally paradise on earth. Sit back, relax and embrace an islander's state-of-mind because you're three steps away from hosting a high society luau.
Set the Table (and the mood)
Pair bright colors, earthy textures and warm aromas to create an experience that's appealing to all the senses. Deep blues, organic pieces like palm leaves, and lightly flickering citronella candles will create a subtle, yet potent ambiance you'll want to create again and again.
Meet Your Menu
These beachy bites will offer up some serious vacation vibes. Whip them up for a summery twist on typical make and take classics.
Butternut Squash Taco Salad
Light and lively, but filling enough to satisfy a crowd.
Get the recipe here.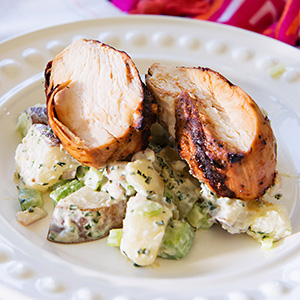 Texas Tumble Chicken and Potato Salad
Surprise your palate with this spin on a summertime classic.
Get the recipe here.
Make Time for Play
Pull out a few vintage board games to give your guests the chance to put down their phones with a throwback packed with quality time. Dominoes are one of our faves—Mexican Train anyone?
Craving More Health and Wellness?
Good news! Our quarterly lookbook is teeming with inspiration for making your summer delicious.