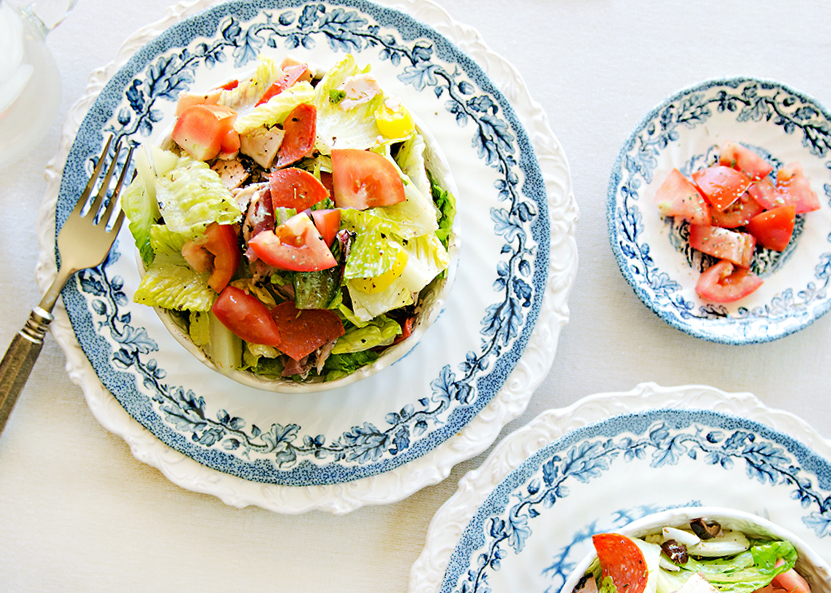 Shake Up Your Brown Bag – Italian Sub Salad

Liven up your next lunch hour by tossing together an Italian classic that's low-calorie AND carb. Sound like a winner? Then get in the kitchen because you're just a few simple steps away from delizioso!
Salad Ingredients:
1 bag (9 oz) shredded romaine hearts
2 roma tomatoes, diced
1 cup mixed Italian olives, pitted
1/4 cup red onion, sliced
1/4 cup sliced pickled banana peppers
6 oz diced Italian meats (prosciutto, turkey pepperoni)
Dressing Ingredients:
1/2 cup +2 tbsp cup olive oil
1-2 tablespoons red wine vinegar
1 tablespoon Italian seasoning
Pinch of salt
Freshly cracked pepper
 How It's Made:
Whisk the ingredients for the dressing together and set aside.
Toss all of the salad ingredients together and toss with dressing. Easy as that!
Calories 470
Total Fat 46g
Protein 14g
Total Carbs 40g
Fiber 2g
Added Sugars 1g
Sodium 1429 mg
Chol 55 mg
Start Shopping!
Get everything you need to make Italian sub salad online or in-store!
Shop STREETside
Find My Store
Ready for a Second Helping of Health and Wellness?
Download our quarterly guide for an exclusive taste of the latest health and wellness trends, brought to you by Market Street's in-house nutrition experts.