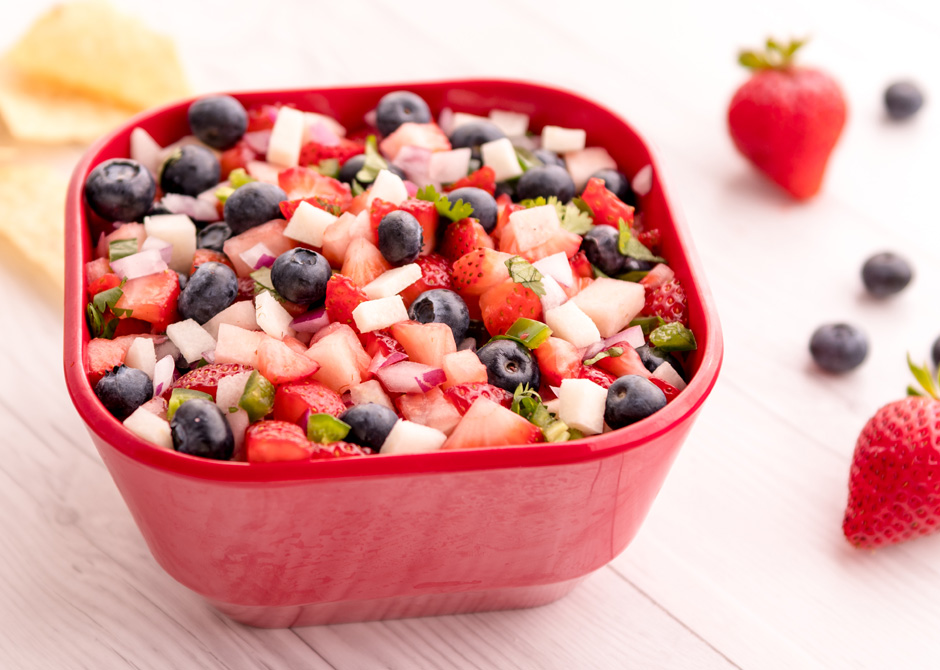 Lady Liberty's Salsa

This sweet and savory salsa will stand up to the flavors found in your favorite tortilla chip with the kind of fire any American would gladly recognize. Mix it up to for your guests for a down and dirty way to graze on sweet liberty.

Serving Size: 3 cups of salsa
What You Need:
1 cup fresh blueberries
1 cup diced strawberries
1 cup diced jicama
1/3 cup chopped cilantro
1/4 cup finely chopped red onion
2 tablespoons finely chopped jalapeno pepper, stemmed and seeded
Juice of 1 large lime
1 clove of garlic
Salt, to taste
Tortilla chips, for serving
 How It's Made:
Add blueberries, strawberries, jicama, cilantro, red onion, jalapeno, garlic, and lime juice in a medium bowl, stirring until well combined.
Season with salt and pepper.
Chill for 1 hour before serving with tortilla chips.
Per ½ cup serving
Calories 32
Total Fat 0g
Protein 1g
Fiber 2g
Sodium 2 mg
Total Carbs 8g
Start Shopping!
Get everything you need to make our Lady Liberty's Salsa online or in-store!
Shop STREETside
Find My Store
Hungry for More Health and Wellness?
Download our quarterly guide for holistic living tips from our lifestyle experts!