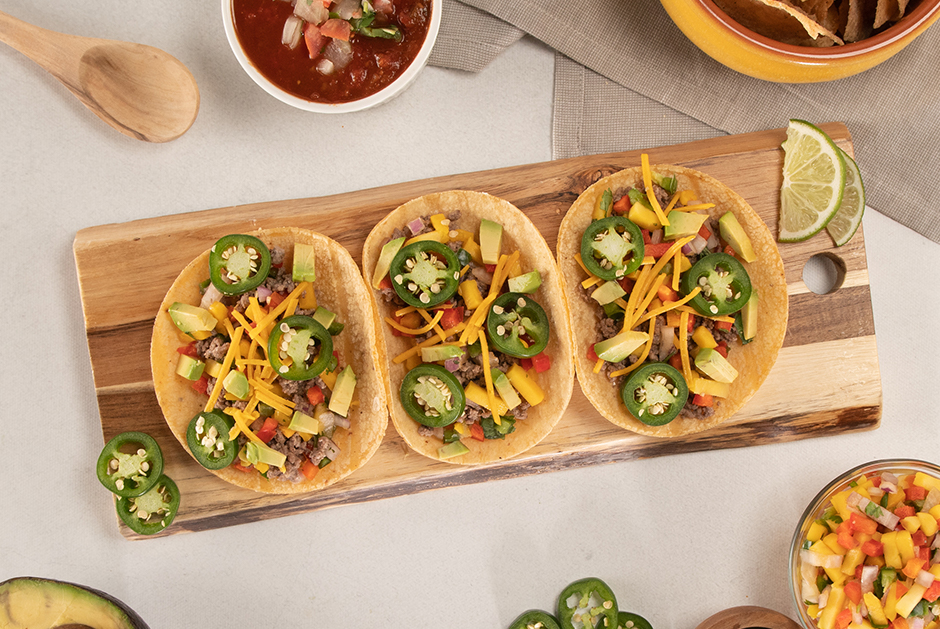 Mango Pico De Gallo Tacos

Hungry for a taste of summer? Then have good news: These easy-to-make sweet and savory tacos put island-inspired flavor on center stage.
4 corn tortillas

Mango pico de gallo
1 lime
1 lb. 93% lean ground beef (or turkey)
1 can rotel
2 Tbsp ancho chili powder
1 Tbsp cumin
Optional Toppings: shredded cheese, sliced avocado, greek yogurt as sour cream
Brown ground beef in a medium-sized pan over medium heat.  

Season meat with rotel, ancho chili powder, and cumin

Once meat is cooked, spoon ground beef into your tortillas.

Top ground beef with a hearty spoonful of Market Street's mango pico de gallo and a squeeze of fresh lime juice.

Add the rest of your favorite taco night toppings, and enjoy!

Calories 272.5
Carbs 15g
Sugar 5g
Sodium 323mg
Fiber 2g
Fat 14g
Cholesterol 70mg
Protein 22g

Get everything you need to make our Mango Pico De Gallo Tacos online or in-store!


Download our quarterly guide for an exclusive taste of the latest health and wellness trends, brought to you by Market Street's Registered Dietitians.