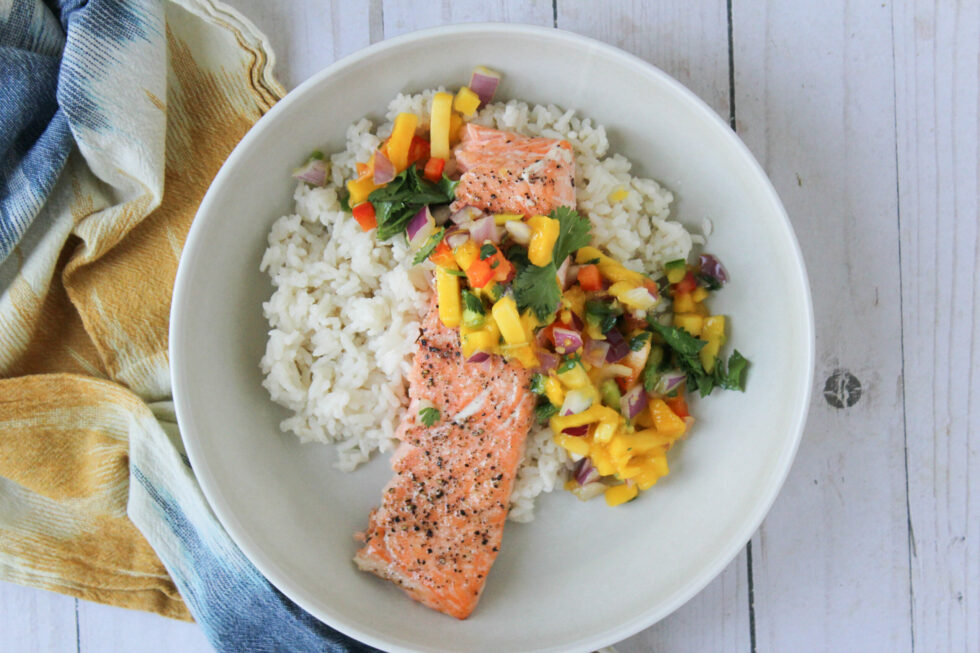 Mango Salmon And Coconut Rice

Send your taste buds on a tropical vacation with this omega-3 packed salmon and coconut rice bowl. It's fast and flavorful leaving happy and nourished.
What You Need
Salmon
1 wild salmon filet (about 1 – 1.5 lbs.)
1 cup citrus based dressing or vinaigrette
Rice
1 cup jasmine rice, rinsed and drained
1 cup O Organic Coconut Water
1 Cup O Organic Unsweetened Coconut Milk
Mango Salsa
1 cup O Organic Frozen Mango, thawed
1 container Pico de Gallo (from Fresh Cut section of produce department)
Optional: diced avocado
 How It's Made:
1. In a 9×13 baking dish, pour marinade and place salmon in marinade (skin side up). Let marinade for one hour in the refrigerator
2. While the salmon is marinating, prepare coconut rice. Add rice, coconut water and coconut milk to a medium saucepan over medium-high heat; bring to a boil. Reduce heat until mixture is at a simmer, cover and let simmer for 20 minutes. Fluff with fork; cover and set aside
3. Heat grill to medium heat. Remove salmon from marinade and place skin side down on a piece of foil on the grill. Cook until done, when thermometer reaches 145 degrees; remove from grill
4. In a medium bowl, toss together mango, pico de gallo and avocado
5. Serve salmon with rice and topped with mango salsa
Calories 429
Total Fat 14g
Cholesterol 57mg
Sodium 450mg
Carbohydrates 49g
Fiber 1g
Sugar 18g
Protein 26g
Ready to Start Shopping?
Get everything you need online!
Shop Online