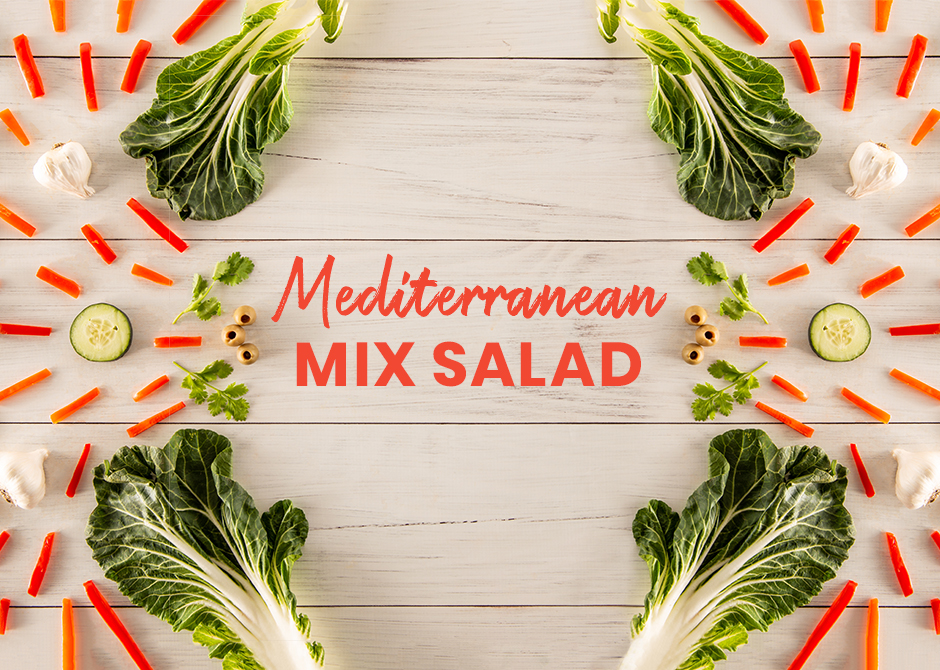 Mediterranean Mix Salad

Get your green on with this savory salad made with a revitalizing crunch of fresh veggies, fresh olives, and a drizzle of silky oil dressing.
2 tsps toasted sesame oil

1 tsp rice vinegar

1 tsp reduced-sodium soy sauce

½ tsp minced fresh garlic

2 cups thinly sliced baby bok choy
½ cup thinly sliced red bell pepper

¾ cup thinly sliced cucumber

2 Tbsps fresh cilantro leaves

Top with

¼ cup LindsayⓇ

 Recloseables-California Ripe Pitted Olives
Combine sesame oil, rice vinegar, soy sauce, and garlic in a medium bowl, tossing well.

Add bok choy, bell pepper, sliced cucumber, fresh cilantro, and olives. Toss to coat.

Calories 237
Total Fat 2g
Chol 2mg
Protein 2g
Sodium 619mg
Total Carbs 10g
Fiber 2g
Sugars 2g


This meal has been tagged as a vegan-friendly pick by our team of nutrition experts. Shop more vegan foods by keeping an eye out for tagged items in-store!

Get everything you need online or in-store!


Download our quarterly guide for an exclusive taste of the latest health and wellness trends, brought to you by Market Street's Registered Dietitians.