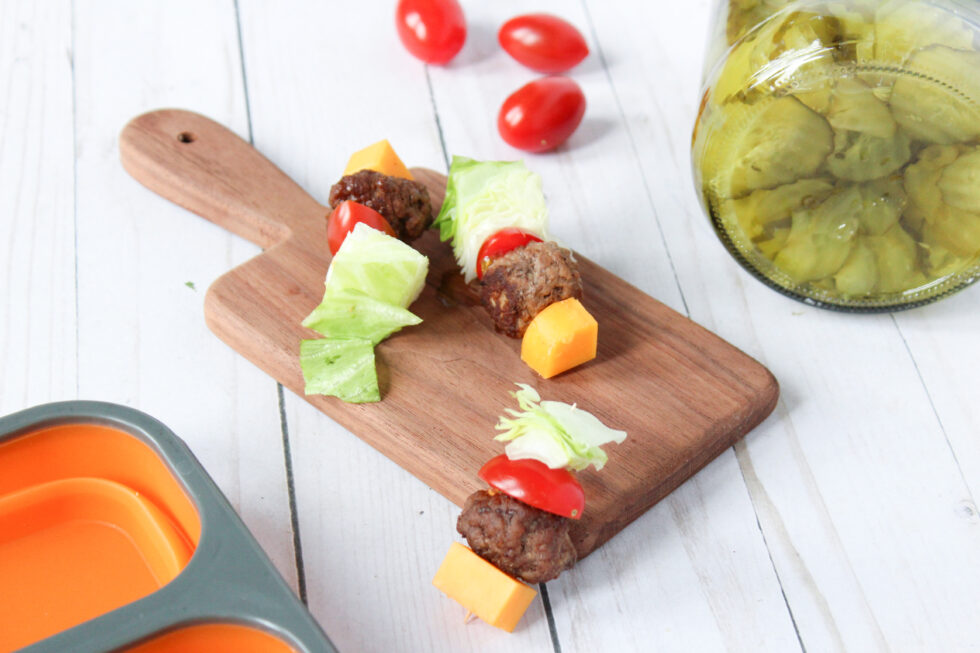 Mini Bunless Burger Skewers

Revamp your burgers into mini lunch box skewers for leftovers! Load them up with veggies that's easy to eat and sure to make eating leftovers fun.
What You Need
1 lb 90/10 ground beef

1 head iceberg lettuce

1 pint cherry tomatoes

1, 6 oz block of cheddar cheese

Optional toppings: pickles, drizzle of your favorite sauce
 How It's Made:
Form ground beef into 1 inch balls and cook in a medium-heat pan for 10 minutes or until internal temperature reaches 165

Cut head of lettuce in half. Turn the lettuce on its side and cut 1 inch cubes

Cut cherry tomatoes in half

Cut cheese into ½ inch cubes 

Assemble toothpick with cheese on bottom, meat, tomato, and lettuce on top
Calories 52
Total Fat 3g
Protein 4.5g
Sodium 48mg
Fiber 0g
Sugars 0g
Ready to Start Shopping?
Get everything you need online!
Shop Online