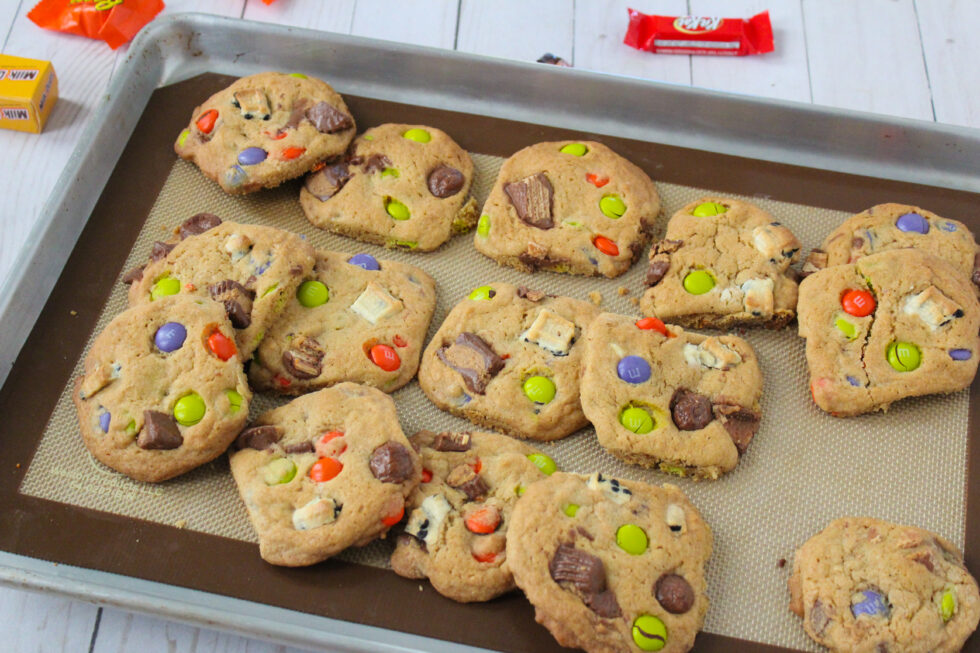 Monster Mash Cookies

What better way to utilize your leftover candy than creating cookie dough. Whether you bake them now or cut them individually later when you want them it's a great way to utilize leftover candy from your stash or the kids.
What You Need
1 c. butter, softened

2 eggs

¾ c. brown sugar, unpacked

¾ c. granulated sugar

1 tsp. Vanilla extract

1 ¼ c. white flour

1 c. whole wheat flour

1 tsp. Baking soda

1 tsp. Salt

3 c. crush chocolate candies of choice (we used m&ms, kit kats, reeces pieces, whoppers, milk duds, and hershey bars)
 How It's Made:
Preheat oven to 350 degrees

Cream together butter and sugar

Crack eggs and mix in one at a time to mix

Stir in vanilla

Add in all dry ingredients and mix until roughly combined

Crush candies into about m&m sized pieces and add to dough mixture and roughly combined

Scoop out into 1 ½ inch balls and place on a cookie sheet and bake for 10-13 minutes
Calories 153
Total Fat 9g
Protein 2g
Sodium 270mg
Fiber 1g
Sugars 11g
Ready to Start Shopping?
Get everything you need online!
Shop Online