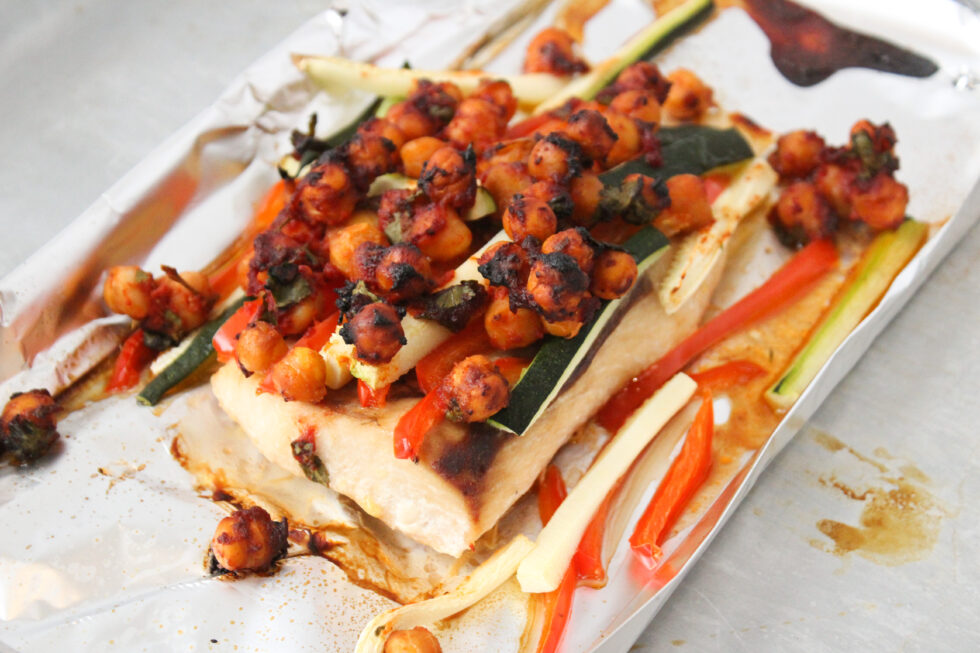 Moroccan Fish Packets

Fish packets are a fantastic way to help fish maintain it's moisture and cook through more gently. Use this recipe to put a subtle moroccan flare on your next fish dinner.
What You Need
1 lb. Cod Fillets (roughly 4 pieces that are ½ inch thick)

1 Medium Red Bell Pepper

1 C. Shredded Carrots

1/2 Medium Zucchini

1 Tbsp. Toasted Sesame Oil

1 Tbsp. Garlic Powder

2 Tbsp. Tomato Paste

1 tsp. Paprika

½ tsp. Cumin

¼ tsp. Allspice

1 tsp. Fish Sauce

1 Lemon, juiced

1/2, 15-oz can chickpeas, drained and rinsed

½ Bunch Cilantro

Salt and Pepper as desired
 How It's Made:
Preheat oven to 400 degrees

Rinse fish and pat dry. Place each fillet on a piece of heavy-duty foil

Slice matchstick size pieces from the bell pepper and zucchini

Roughly chop the cilantro

In a large bowl, combine the toasted sesame oil, garlic powder, tomato paste, paprika, cumin, allspice, fish sauce, and lemon juice

Toss in the cilantro, chickpeas, bell pepper, zucchini and carrots into the liquid mixture and toss to evenly coat

Spoon the mixture over fish 

Fold foil around fish and crimp edges to seal. Transfer packets to a

baking sheet

.

Bake until fish just begins to flake easily with a fork and vegetables are tender, 8-12

Pull out of oven and uncover the packet for 5 minutes to lightly crisp up the vegetables
Calories 252
Total Fat 8g
Cholesterol 60mg
Sodium 557mg
Carbohydrates 25g
Fiber 6g
Sugar 4g
Protein 21g
Ready to Start Shopping?
Get everything you need online!
Shop Online