Mothers Day Chill Lunch or Dinner Must-Haves

Spoiling mom on Mother's Day is no small task. Moms do so much for the family and boiling it down to one day is impossible BUT to make it extra special we want to help you plan it out! If you didn't catch our breakfast/brunch must-haves, grab there here. Since a mama (and family) has to eat again, let's talk through some nutritious lunch options and why they work for the whole family.
Charcuterie Tray + Wine
The wine won't work for the whole family, but a glass for the parents is great. Charcuterie is a simple way to amp up the presentation without lifting a finger. It also lets the kids explore a new food, or a food they think they might not have previously liked. Add in any fruit or veggies you already have at home for a quick nutrient dense option they will keep the family fuller for longer.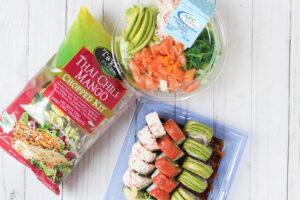 Sushi + Bagged Salad Kit + Sparkling Wine
Sparkling wine and sushi is an excellent pairing if you aren't already familiar with it! Sushi might be a hit or miss since it's pretty specific but this is one of those vibes between a fancy and chill mom. Since this is a higher carbohydrate and decently good protein field meal lets make sure to tie in more fiber with a fresh and easy salad kit. To lighten things up a little more ask for the sauces to be on the side.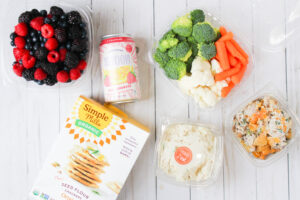 Ready Meals Lite Chicken Salad or Apricot Chicken Salad + Simple Mills Crackers with a fruit and veggie tray + Sparkling Water
Let's say you've got a chill mom and she wants something a little more low-key than the previous options. Cue in a lunchable style meal but elegant. Our lite chicken salad and apricot chicken salad is amazing! Pair it with a better-for-you cracker and some fruit and vegetables. This is excellent as a picnic, after chores/gardening moments, or as a break in the middle of the day to "play" with food. No one is having to create a meal but rather to just pull things together that work.