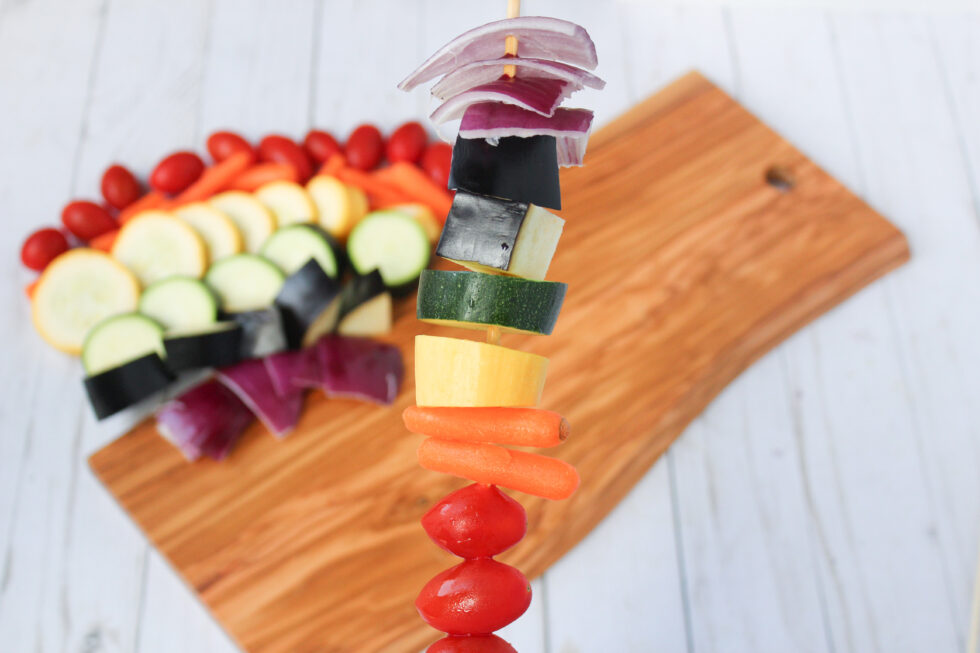 National Eat Your Veggies Day!

It's national eat your veggies day and we are getting in the spirit with tying them into the grilling season! Did you know that the current recommendation is 5-9 servings of fruit and vegetables in a day? Most people are only getting in around 1-2 servings. Remember that a serving is 1 cup raw or ½ c. cooked. So load up when and where you can! This recipe is perfect to get in 1, half cup serving if you're serving as a side dish. 
What You Need
8 cherry Tomatoes
8 baby Carrots
1 small Squash
1 small Zucchini
½ small Eggplant
½ small Purple Onion
1 Tbsp. olive oil
Salt and pepper as desired
 How It's Made:
Preheat grill to medium high heat

Soak wood skewers in water

Cut squash, zucchini and eggplant in 1 inch slices

Open the onion in layers and cut them into 2 inch squares

Skewer the vegetables starting with tomatoes, followed by carrots, squash, zucchini, eggplant and purple onion

Brush lightly with olive oil and salt and pepper as desired

Place on grill for 2-3 minutes per side just enough to obtain grill marks
Calories 62
Total Fat 3g
Protein 1g
Sodium 40mg
Fiber 1.5g
Carbohydrates 7g
Ready to Start Shopping?
Get everything you need online!
Shop Online