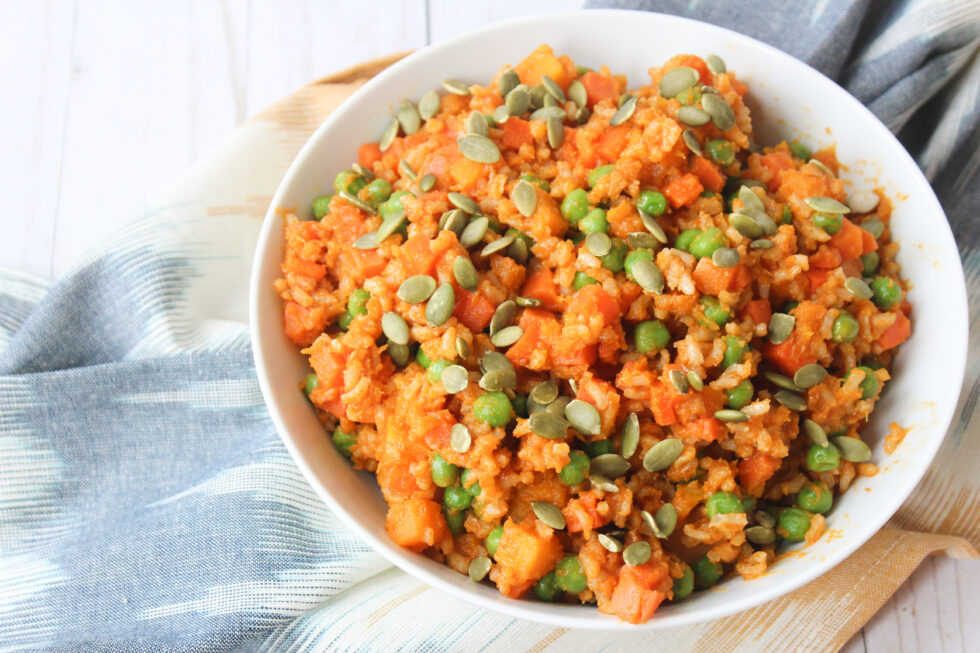 National Fried Rice Day

With the fall mentality in full swing we are ready to welcome all the flavors it brings and with stir-frys being an easy weeknight dinner we are here to jazz it up. If you want to add a meat protein to this, anything would fit: chicken, fish, ground beef, or ground pork.
What You Need
1 pkg 90-second Brown Rice
2 Eggs
3 Tbsp. Coconut Aminos
4 Tbsp. Sesame Oil
1 pkg pre-cut Butternut squash (about 2 cups)
⅓ c. Canned pumpkin
1 Tbsp. Gochujang 
1 frozen bag peas and carrots, thawed
Pumpkin seeds
Salt and pepper as desired
 How It's Made:
Dice butternut squash into smaller ½ inch pieces

Saute on medium heat until soft

Scramble eggs on the side

Microwave rice according to package direction

Add all other ingredients to pan and toss to combine

In a bowl combine pumpkin, gochujang, coconut aminos, sesame oil

Add liquid to pan ingredients and combine

Serve with pumpkin seeds on top
Calories 267
Total Fat 11.5g
Protein 7.5g
Sodium 292mg
Fiber 9g
Carbohydrates 37g
Ready to Start Shopping?
Get everything you need online!
Shop Online