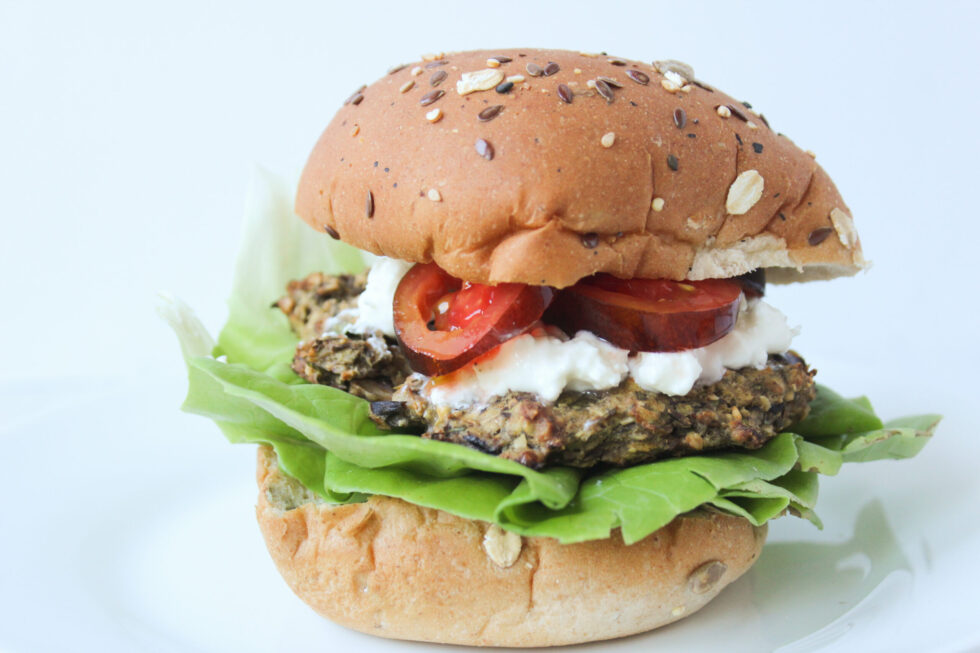 National Veggie Burger Day

It's summer grilling season, but what if it rains?! This beautifully blended veggie burger packs a powerful punch with taste and texture and it is made in the oven. With a light crust on the outside and meat-like quality on the inside, this burger hits a home-run for nutritional value, and a grand-slam once you load it up with juicy veggie toppings! We can't forget the dairy since it's not only national dairy month, but it also packs a ton of flavor and benefits!
What You Need
1 Medium Eggplant, diced in 1" cubes
Spray avocado oil
8 oz. Sliced White Mushrooms
½ c. Unsalted Walnuts
½ c. Oats
2 large Eggs, lightly whisked 
1 Lemon, juiced and zested 
¼ c. Fresh Parsley, minced
1 Tbsp. Fresh Thyme, minced
1 Tbsp. Fresh Dill
2 tsp. Dried Oregano
1 tsp. Ground Cumin
2 tsp. Ground Coriander
½ tsp. Ground Cinnamon
2 tsp. Dried Garlic
2 Cloves Garlic, minced
Pepper to taste
6 Whole Grain Bun of choice
Optional Toppings: avocado, cucumber, red onion, tomatoes, lettuce
Tzatziki Sauce
Ingredients
1, 5.3 oz Chobani plain Greek yogurt
1 oz feta cheese, crumbled
½ cup diced cucumbers
½ Tbsp. garlic powder
½ Tbsp. dried dill
1 tsp. pepper
Splash of lemon juice
 How It's Made:
Preheat oven to 450 degrees F

Line a large baking sheet with parchment paper as to not overcrowd the pan

Place eggplant and mushrooms on separate sides of baking sheet

Spray lightly with oil and season with pepper as desired

Bake eggplant and mushrooms for 20 minutes

Reserve the baking sheet with parchment paper to use again

In a food processor pulse oats to "breadcrumb" texture and pour into a large mixing bowl and set aside

In the same food processor pulse walnuts to quinoa size texture

Pour into the large mixing bowl

Prep tzatziki sauce by placing all ingredients into a bowl and mixing together

Prep all optional toppings as desired

Reduce oven heat to 400 degrees F

Pulse eggplant a few times in a food processor until coarse in texture

Transfer to the mixing bowl

Pulse mushrooms until coarse (about pea size) and add to the same bowl (PRO TIP: pulsing everything together will make the mixture too mushy, so take your time)

Add all other ingredients and stir to combine

Form 6 patties

Bake until crispy and browned, about 20 minutes
Calories 284
Total Fat 9g
Cholesterol 68mg
Sodium 80mg
Carbohydrates 37g
Fiber 10g
Sugar 5g
Protein 14g
Ready to Start Shopping?
Get everything you need online!
Shop Online