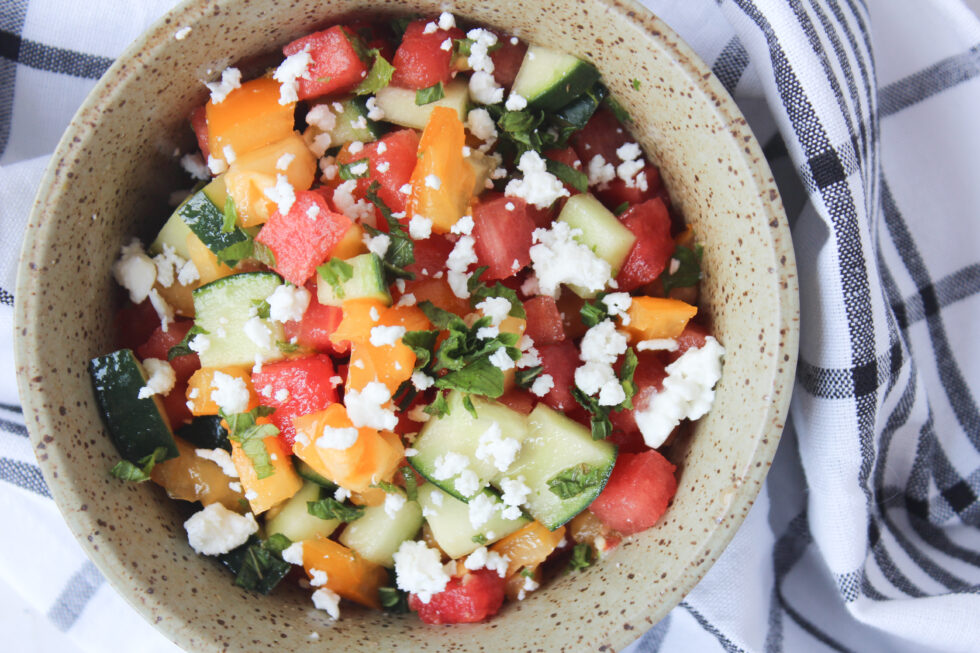 National Watermelon Day

Happy National Watermelon Day! Not only is watermelon a great snack for summer but it's excellent for back-to-school. Let's say though, that you want to pair this delicious fruit with a few other ingredients like we have below – it's great on a cucumber slice or cracker (or even topping on chicken or fish) as part of your lunch.
What You Need
1 c. Watermelon
1 c. Heirloom tomatoes
½ c. cucumbers
½ Lemon juice
1 Tbsp. Honey
3 oz. Feta
20 Mint leaves
 How It's Made:
Mince mint and place in bowl 

In the bottom of the bowl add lemon juice and honey and stir until well combined

Dice watermelon, tomatoes, and cucumbers in ¼ – ½ inch pieces and add to bowl and toss to coat

Sprinkle feta on top
Calories 186
Total Fat 6g
Protein 11g
Sodium 512mg
Fiber 2.5g
Carbohydrates 24g
Ready to Start Shopping?
Get everything you need online!
Shop Online