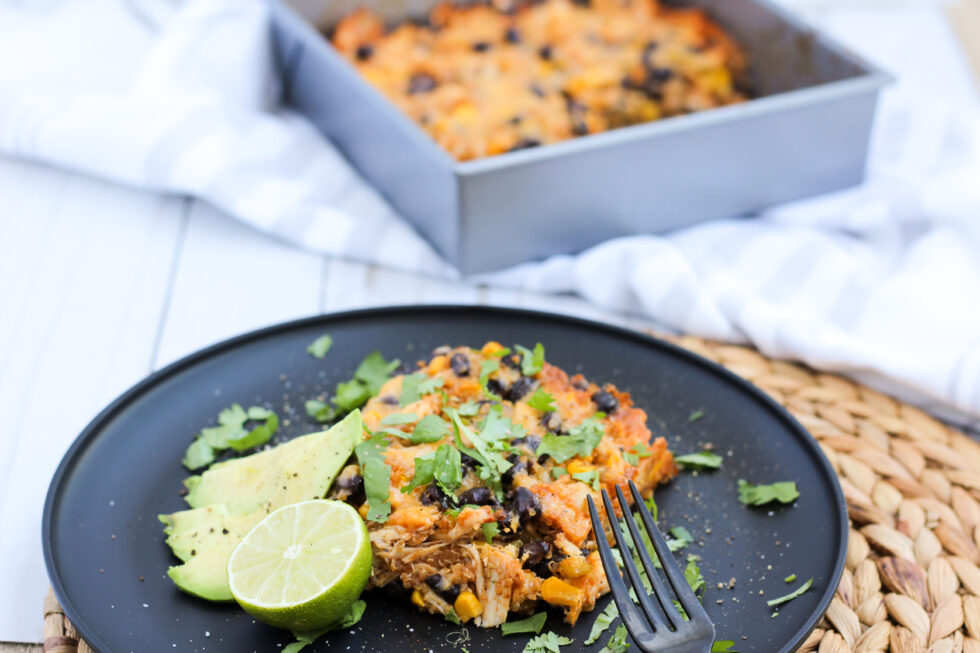 One Bowl Enchilada Casserole Pantry Staples

Ready for round two of utilizing those pantry staples from quarantine? This delicious casserole bowl will help you use up those pantry and freezer staples and help you celebrate Cinco de Mayo!
What You Need
1 cup quinoa (or rice)

1- 10 oz can enchilada sauce  

1- 4.5 oz chopped green chiles, drained

½ cup corn (frozen or canned)

1 cup canned black beans

12 oz shredded chicken

2 tbsp chopped fresh cilantro

½ tsp cumin

½ tsp chili powder

¾ cup shredded cheddar cheese

¾ cup shredded mozzarella cheese

Optional: avocado, tomato
 How It's Made:
Cook quinoa according to package instructions; set aside.

Preheat the oven to 375℉. Lightly oil or coat with nonstick spray a 2-quart baking dish or 8×8 dish.

In a large bowl, combine quinoa, enchilada sauce, black beans, corn, green chiles, olives, cumin, and chili powder. Stir in ½ cup cheddar and ½ cup mozzarella. 

Spread quinoa mixture into the baking dish. Top with leftover cheese. Put into the oven and bake for about 15 minutes, until the cheese has melted and bubbles. 

Optional: garnish with avocado and tomato.
Calories 425
Total Fat 19g
Chol 98mg
Protein 34g
Sodium 1057mg
Total Carbs 30g
Fiber 5g
Sugars 3g
Ready to Start Shopping?
Get everything you need online!
Shop Online