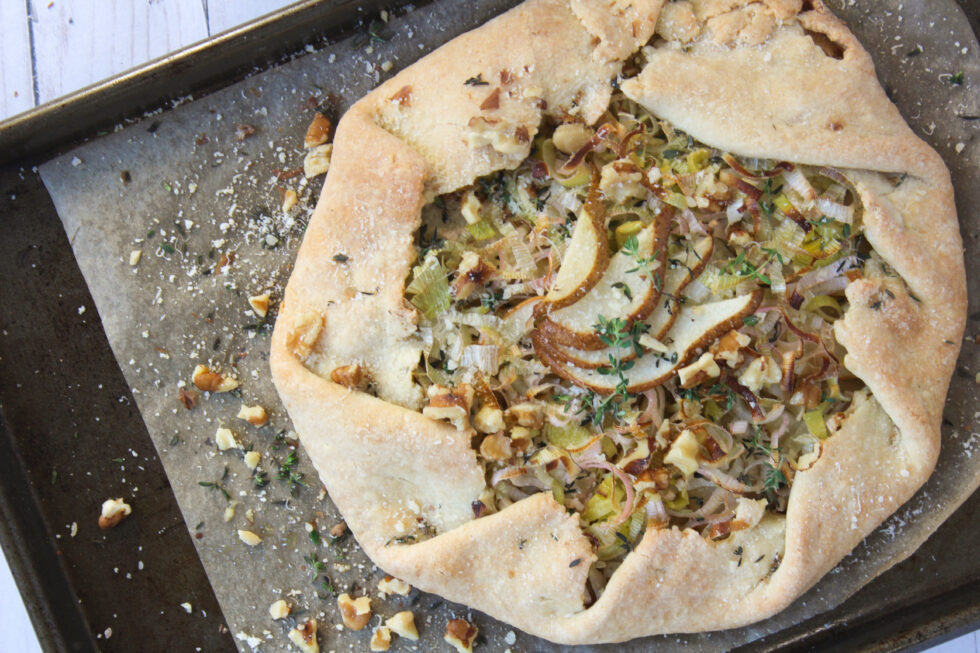 Pear & Leek Galette

Fall sweet and savory flavors come together in a perfect breakfast galette or as an appetizer for your turkey day festivities.
What You Need
1 ⅓ c. Flour
1 Egg
2 Tbsp. Heavy Cream
1 stick Butter, cold
1 tsp. Salt
2 Pears
1 Leek
2 Tbsp. Parmesan
⅛ c. Walnuts, chopped
1 Tbsp. Honey
2 Tbsp. Fresh Thyme
 How It's Made:
In a food processor combine flour, salt, and cubed butter

Add in egg and heavy cream and combine until just incorporated

Wrap in plastic and refrigerate

Preheat oven to 350 degrees

Slice pears in thin slices

Slice leek in half

Finely dice leek in half moons

Lightly flour a surface

Roll out dough on the surface 

Put the leek and pear in the center and roughly fold over the sides

Bake for 40-45 minutes until crust is lightly golden

Roughly chop walnuts

Mince thyme

Drizzle with honey and parmesan to finish
Calories 375
Total Fat 30g
Protein 4.5g
Sodium 611mg
Fiber 3.5g
Carbohydrates 25g
Ready to Start Shopping?
Get everything you need online!
Shop Online