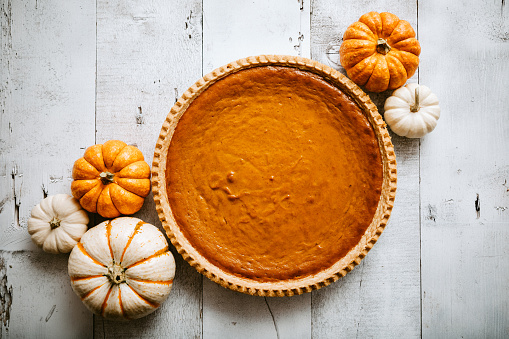 Perfectly Paleo Pumpkin Pie

Paleo dieters, rejoice! This Thanksgiving, you can have your pumpkin pie and eat it too with this paleo take on a turkey day staple.
What You Need:
Crust
1 cup pecans

1/2 cup hazelnuts

4 Tbsp butter, ghee or coconut oil (room temperature)

A pinch of sea salt
Filling
1 can fresh or canned pumpkin puree (about 1 ¾ cups)

2 eggs

1/2 cup local raw honey

1/2 cup coconut milk

2 tsp cinnamon

1/4 tsp ground cloves

1/4 tsp fresh grated ginger
 How It's Made:
Crust
Preheat oven to 350℉.

Process nuts in a food processor to almost a flour-like consistency. Be careful not to process too much or the mixture will stick together.

In a bowl, mix ground nuts with butter or coconut oil. S

pread mixture in a pie pan and bake for 10 minutes.
Filling
While the crust bakes, mix filling ingredients together in a bowl.

Pour filling evenly on baked crust and bake for an additional 45 minutes.

Let cool and enjoy!
Recipe Inspired By: paleoleap.com
Calories 314
Total Fat 22g
Chol 62mg
Protein 5g
Sodium 78mg
Total Carbs 31g
Fiber 8g
Sugars 20g
Ready to Start Shopping?
Get everything you need to make our Perfectly Paleo Pumpkin Pie online or in-store!
Shop Online
Find My Store
Ready for a Second Helping of Health and Wellness?
Download our quarterly guide for an exclusive taste of the latest health and wellness trends, brought to you by Market Street's in-house nutrition experts.