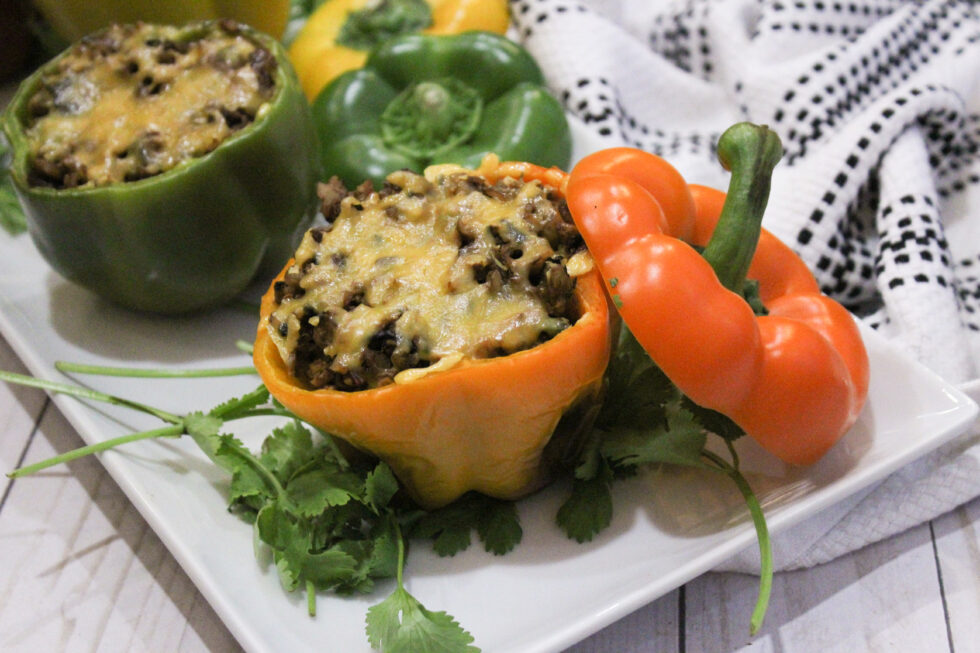 Plant Based Mexican Stuffed Bell Peppers

Putting fun twists on a classic recipe to include more plants is always a win in our book. In this case we look at the classic meat based taco and give it a plant based twist and lean into the textures of cauliflower, walnuts, and brown rice to create a hearty consistency.
What You Need
1, 10oz bag Frozen Cauliflower Rice, Thawed
1 C. 90 Second Brown Rice
2 Tbsp. Chipotles in Adobo
1 C. Walnuts
1 Tbsp. Garlic
1 Tbsp. Cumin
1 Tbsp. Chili Powder
½ Tbsp. Onion Powder
½ Tbsp. Paprika
1 Lime, Juiced and Zested
½ Bunch Cilantro 
4 Bell Peppers
⅓ C. Cheese
Optional Toppings: salsa, greek yogurt, cheese, pico de gallo
 How It's Made:
Preheat oven to 350

Heat rice according to package directions

Roughly chop walnuts 

In a large pan over medium heat add the cauliflower rice, brown rice, chipotles in adobo, walnuts, garlic, cumin, chili powder, onion powder, paprika, lime juice, and cilantro

Cut top off bell pepper and hollow out the inside

Fill with mixture

Place in a jumbo muffin tin or baking dish

Top with cheese

Cover with aluminum foil and place in oven for 30 minutes
Calories 280
Total Fat 20g
Cholesterol 8mg
Sodium 99mg
Carbohydrates 22g
Fiber 6g
Sugar 8g
Protein 10g
Ready to Start Shopping?
Get everything you need online!
Shop Online