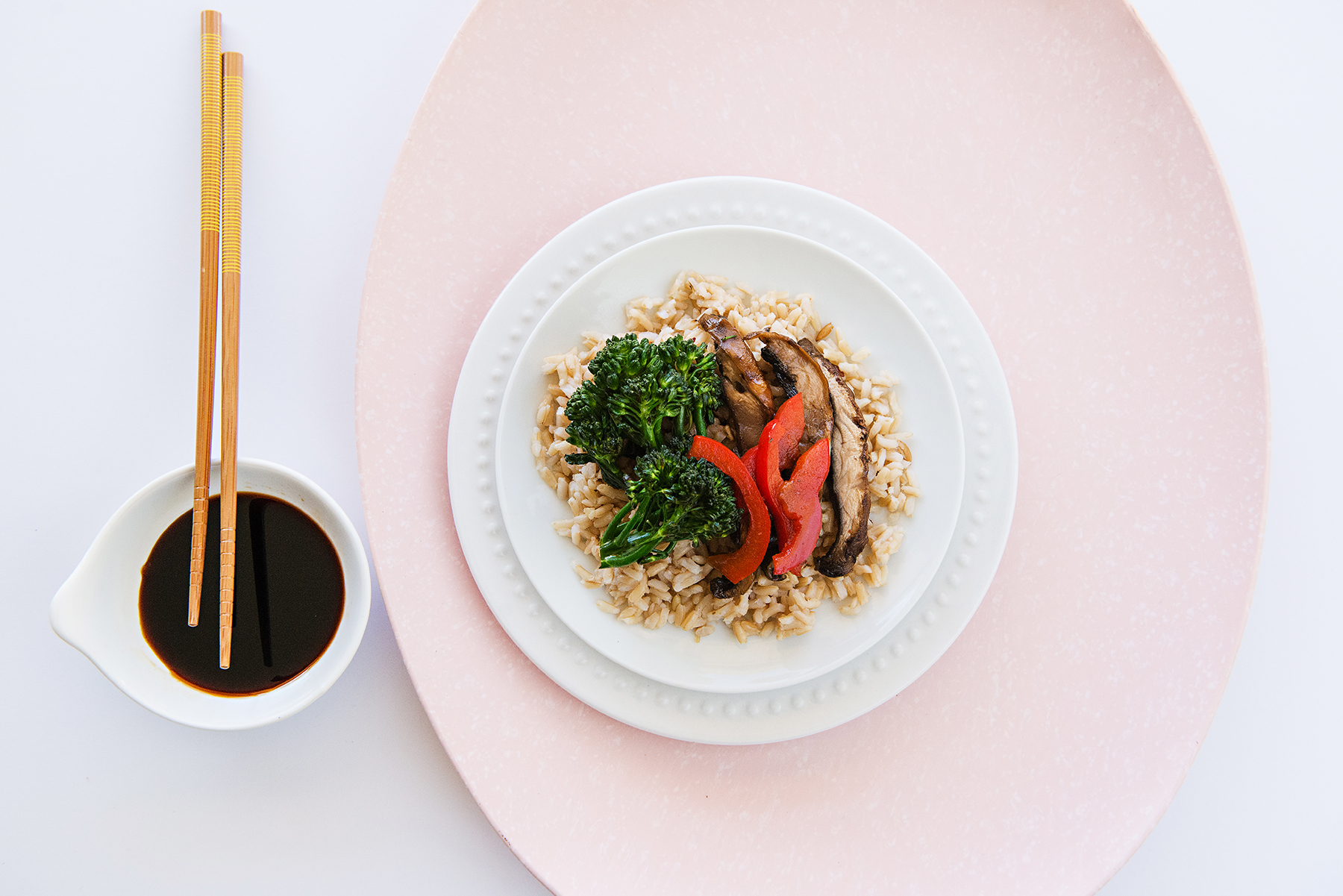 30-Minute Portobello Mushroom Stir-Fry

Dig into this zesty stir-fry for a meatless meal that isn't missing any flavor.
What You Need:
2 cloves garlic, minced

2 tsp minced ginger

3 to 4 Tbsps maple syrup

1/2 tsp red pepper flake (more or less to taste)

3 to 4 Tbsps tamari

1 Tbsp sesame oil

3 Tbsps lime juice

1 Tbsp water

2 portobello mushrooms

1 red bell pepper, thinly sliced

1 cup chopped broccolini

4 cups cooked brown rice or cauliflower rice

1 tsp sesame seeds
 How It's Made:
Clean portobello mushrooms by wiping with a slightly damp towel (do not immerse in water or they will get soggy) and slice into thin strips.

Prepare marinade by adding all ingredients to a small mixing bowl and whisking to combine. Add portobello mushrooms to a large shallow dish, such as a 9×13-inch baking pan, and top with marinade. Gently stir/toss to combine. Set aside to marinate for 10 to 12 minutes while you prep your vegetables. Toss occasionally to evenly coat.

Once portobellos marinate, heat a large skillet over medium heat and add a bit of sesame oil. Then add only as many portobellos will fit comfortably in the pan, and sauté for 2 to 4 minutes on each side, or until golden brown and slightly seared. You may have to do this in two batches depending on the size of your pan.

Set portobellos aside and loosely cover to keep warm. Then add red pepper and broccolini to pan and increase heat to medium-high. Sauté for 2 to 3 minutes, stirring frequently.

Add any remaining portobello marinade and toss to coat. Cook for 1 minute. Then remove from heat and serve immediately.
Calories 329
Total Fat 5g
Chol 0mg
Protein 9g
Sodium 465mg
Total Carbs 62g
Fiber 5g
Sugars 11g
Ready to Start Shopping?
Get everything you need to make our Portobello Mushroom Stir-Fry online or in-store!
Shop Online
Find My Store
Ready for a Second Helping of Health and Wellness?
Download our quarterly guide for an exclusive taste of the latest health and wellness trends, brought to you by Market Street's in-house nutrition experts.