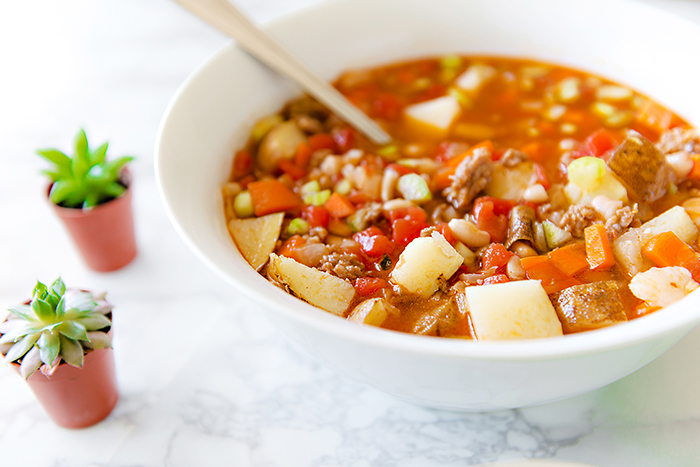 Potato Sausage Soup

If you're hungry for hearty, this savory potato sausage soup will hit the spot. Whip it up when you're feeling chilly, need a little soul food in your life, or as the inaugural dish of slow cooker season.
What You Need:
1 Tbsp extra virgin olive oil

1 small yellow onion, diced

1 pound Italian sausage

2 potatoes, cubed

2 stalks celery, diced

1 carrot, diced

15 oz can diced tomatoes, with liquid

15 oz can white beans, with liquid

4.5 cups low sodium vegetable or chicken broth

1 tsp parsley
 How It's Made:
In a saute pan, heat olive oil over medium heat. Add onions and cook until soft.

Next, add sausage and cook until browned. Drain.

Add the sausage, onion mixture and remaining ingredients to a slow cooker. Set on low for 6-8 hours, or high for 4-6 hours.

Serve warm and garnish with parsley as desired.
Calories 297
Total Fat 9g
Chol 23mg
Protein 21g
Sodium 792mg
Total Carbs 34g
Fiber 9g
Sugars 5g
Ready to Start Shopping?
Get everything you need to make our Potato Sausage Soup online or in-store!
Shop Online
Find My Store
Ready for a Second Helping of Health and Wellness?
Download our quarterly guide for an exclusive taste of the latest health and wellness trends, brought to you by Market Street's in-house nutrition experts.