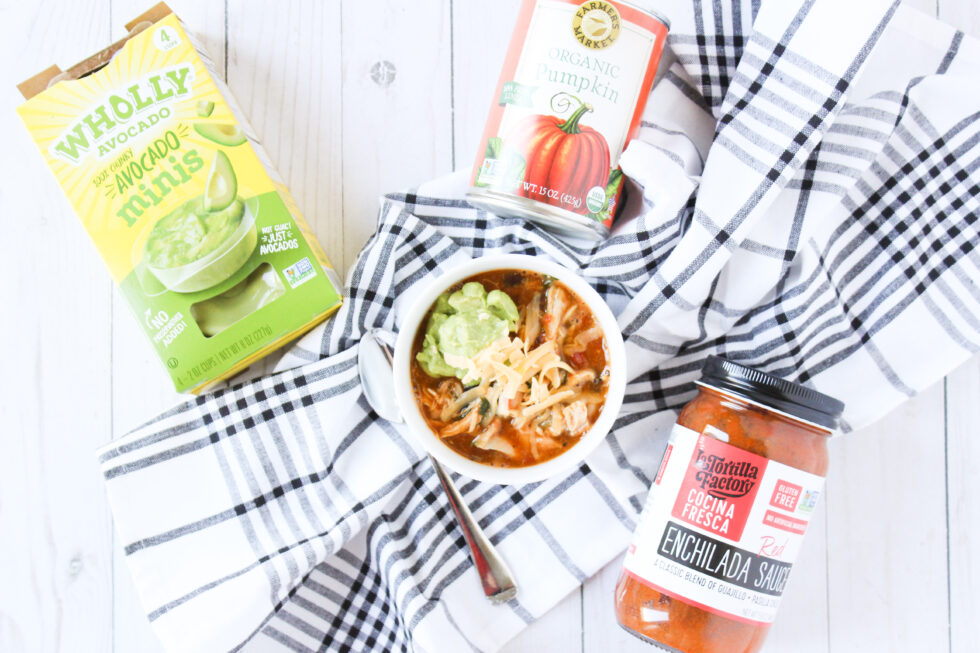 Pumpkin Enchilada Veggie Soup

Canned goods are one of our well stocked Dietitian pantry must-haves since these fruits and vegetables are picked at peak perfection and their season's flavors are sealed in. One of our seasonal favorites is canned pumpkin and for good reason. We are putting a fall spin on a southern favorite. Not only does this recipe amp up the fiber content but it also helps create a creamier soup with a cozy taste.
What You Need
1lb Chicken breasts

4 c. Pacifica Chicken Bone Broth 

2 cans Black beans

2 cans no salt added northern beans

1 can Fire Roasted Tomatoes

1 can Canned Pumpkin

1, 4oz can Green Chiles

1 medium Onion

2 cloves Garlic

½ Tbsp. Cumin

½ c. Enchilada Sauce

Salt and pepper to taste

Optional toppings: Cheddar, Avocados, cilantro, chobani
 How It's Made:
Preheat oven to 350 degrees

Bake chicken for 25-30 minutes or until internal temperature reads 145

Shred chicken

Drain and rinse beans

Dice onion and garlic

In a large stock pot saute onions and garlic until translucent, about 5 minutes

Add in bone broth, beans, fire roasted tomatoes, pumpkin, green chiles, cumin, enchilada sauce, and shredded chicken

Simmer on low for 10 minutes then serve
Calories 320
Total Fat 0g
Protein 27g
Sodium 312mg
Fiber 15g
Sugars 8g
Ready to Start Shopping?
Get everything you need online!
Shop Online