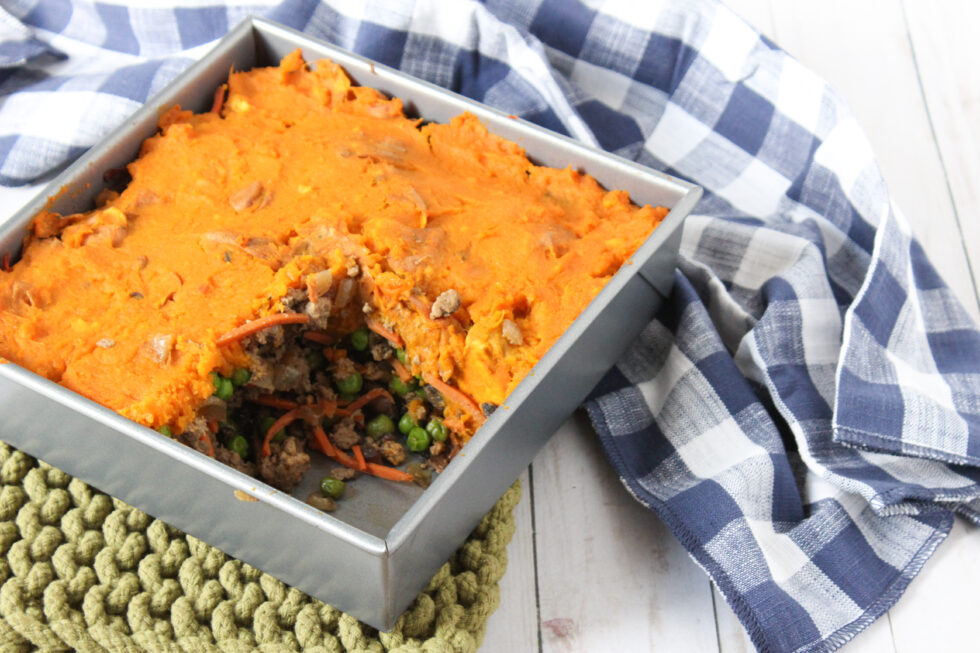 Pumpkin Sheppards Pie

Let's go ahead and throw pumpkin in everything shall we? Ok – that's a bit drastic but this recipe with it is a must. The perfect addition to your fall weekly rotation. Go ahead – get cooking!
What You Need
1lb Ground turkey

6 oz frozen Peas

5 oz shredded Carrot

1, 8oz pkg Mushrooms

1 medium Onion

1 ½ Tbsp. Sage

1 Tbsp. Thyme

1 Tbsp. Fennel

1 tsp. paprika

Salt and pepper as desired

2 medium Sweet Potatoes

½ can Canned pumpkin
 How It's Made:
Preheat oven to 400

Poke holes in potatoes with fork and microwave both for 10 minutes

Flip potatoes to the other side and add an additional 6 minutes to the microwave 

Put potatoes and canned pumpkin into food mixer and let it go on medium until well combined

Brown the ground turkey in a large skillet

Add sage, thyme, fennel, and paprika

Dice onions and mushrooms

Add them to the skillet and saute until soft

Add carrots and peas to combine

Transfer to an 8×8 dish and top with sweet potato pumpkin mixture

Cook in oven for 15-20 minutes
Calories 309
Total Fat 9g
Protein 29g
Sodium 330mg
Fiber 7g
Sugars 10g
Ready to Start Shopping?
Get everything you need online!
Shop Online