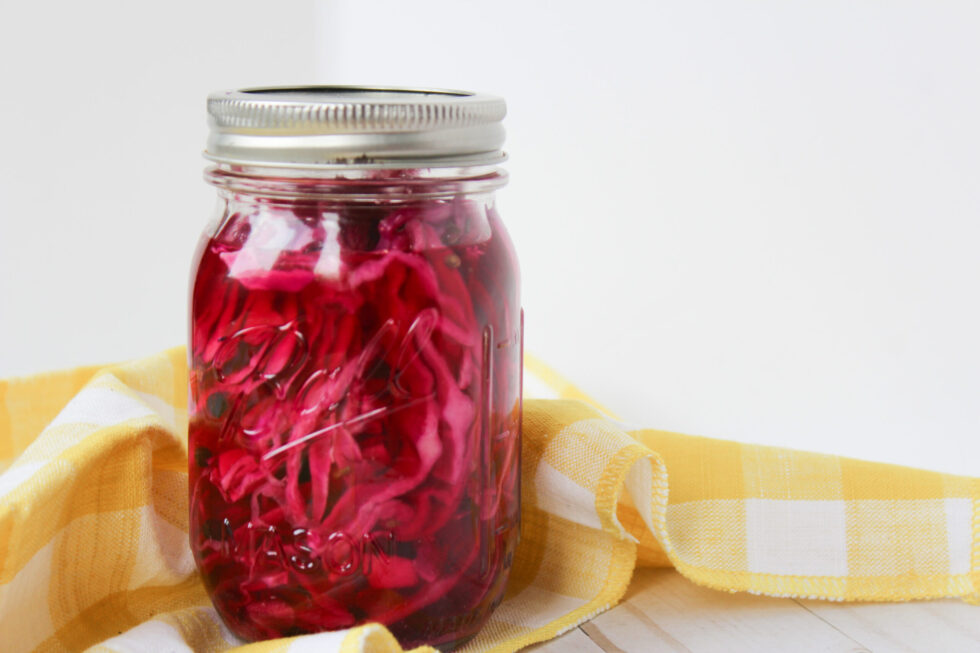 Quick Pickled Cabbage

Pickled anything is a crazy delicious flavor booster be it on a salad, fresh fish, or your cinco de mayo tacos. This recipe is jam packed with flavor and really ups the quality on your next pickling adventure. We went with cabbage since we wanted more color this go-round!
What You Need
¼ Purple Cabbage
¾ c. Rice Vinegar
¾ c. Water
1 Tbsp. Sugar
¼ tsp. Garlic Powder
¼ tsp. Oregano
1 bay leaf
½ tsp. Salt
3-6 Peppercorns
 How It's Made:
Finely slice cabbage and place in a medium-sized mason jar 

In a small pot, bring water, rice vinegar, bay leaf, and salt to a boil 

Add garlic powder, oregano, and peppercorns to mason jar 

Pour boiled mixture into jar and let it sit until it reaches room temperature 

Place in refrigerator and enjoy
Calories 23
Total Fat 1g
Cholesterol 0mg
Sodium 210mg
Carbohydrates 5g
Fiber 1g
Sugar 4g
Protein 1g
Ready to Start Shopping?
Get everything you need online!
Shop Online