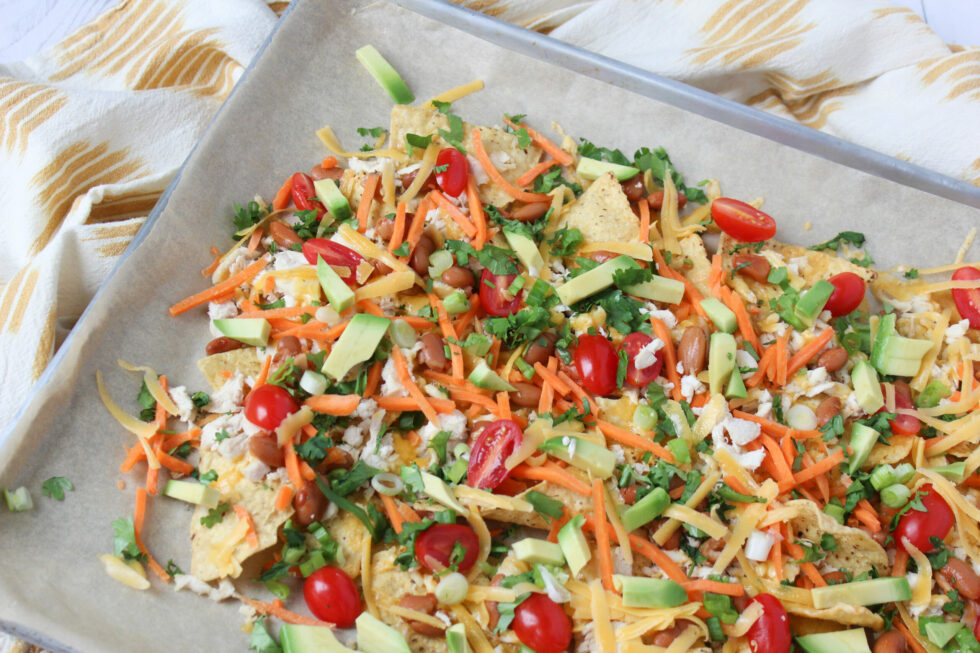 Ranchero Nachos

Sheet pan anything might be one of our favorite ways to cook because it's minimal cleanup. This no-cook (only heat through) option is great for a weeknight meal. The heavy lifting comes in the form of chopping a few vegetables but if you've got extra hands to help (and they are old enough to help) lean into the assistance.
What You Need
48 Tortilla Chips (roughly 4 servings)
2 c. Cheddar Cheese, Shredded
1 can Ranch Beans, drained
2 Green Onion, diced
½ c. Shredded Carrot
1 pint Tomatoes
1 bunch Cilantro
1 medium Avocado
1 lb. Ready Meals Shredded Chicken
 How It's Made:
Preheat the oven to 350

On a large pan place a piece of parchment paper

Layer on the chips

Sprinkle on the shredded chicken and cheese

Heat until cheese is just melted (about 5 minutes)

Chop cherry tomatoes in half

Dice avocado

Mince cilantro

Layer on the ranch beans, carrots, tomatoes, cilantro, avocado and green onion to finish off
Calories 583
Total Fat 35g
Cholesterol 112mg
Sodium 1326mg
Carbohydrates 35g
Fiber 7g
Sugar 5g
Protein 32g
Ready to Start Shopping?
Get everything you need online!
Shop Online