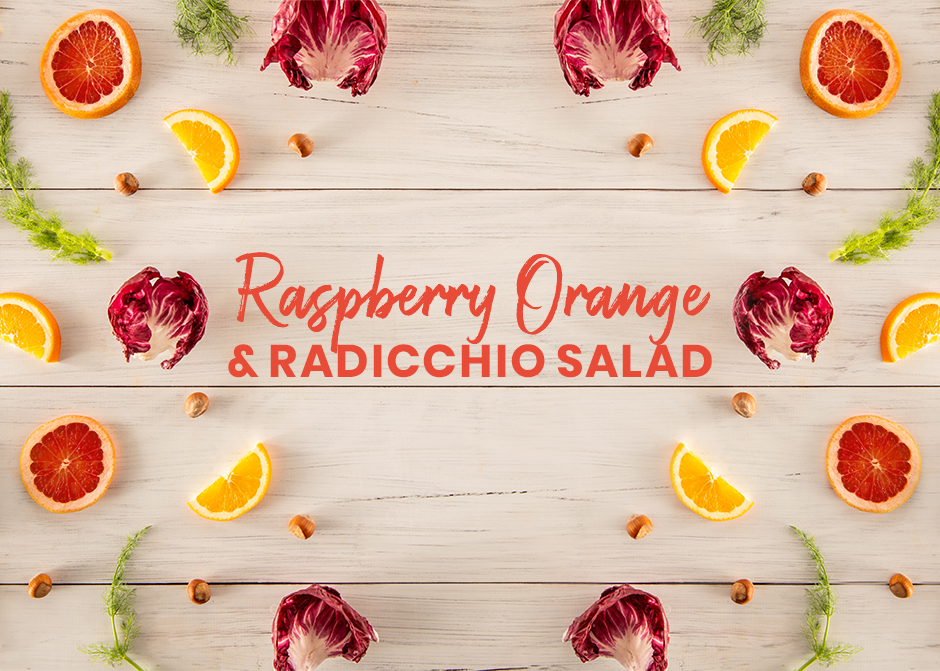 Raspberry Orange and Radicchio Salad

Brace yourself for your new year obsession: raspberry oranges. They're tangier and more tender than your usual squeeze and some varieties tout more Vitamin C than any other fruit in the world. It's no wonder we're infusing our salads with them; and once you start, you won't be able to stop.
2 medium navel oranges, divided

2 large raspberry oranges

⅛ cup extra-virgin olive oil

2 Tbsps sherry vinegar

1 Tbsp light agave syrup
⅞ tsp kosher salt

½ tsp freshly ground black pepper

2 (5 oz.) heads radicchio

1 medium fennel bulb, thinly sliced, fronds reserved

½ cup chopped hazelnuts
Slice a navel orange in half and squeeze 2 Tbsps of juice into a small bowl.

Peel other navel orange and 2 raspberry oranges and cut them across the grain into quarter-inch slices on a separate plate.

In the small bowl, whisk the orange juice, oil, vinegar, syrup, salt, and pepper.

Cut radicchio heads in half lengthwise, removing core.

Carefully take remaining part and break it into separate leaves, leaving about 3 Tbsps of fresh fennel fronds.

Arrange radicchio, orange slices, and fennel on a big plate and drizzle with orange-juice-based dressing. Garnish with more fennel fronds and some chopped hazelnut and it will be love at first bite!

Calories 161
Total Fat 8g
Chol 0mg
Protein 2g
Sodium 16mg
Total Carbs 24g
Fiber 4g
Sugars 17g

Get everything you need online or in-store!

Download our quarterly guide for an exclusive taste of the latest health and wellness trends, brought to you by Market Street's Registered Dietitians.