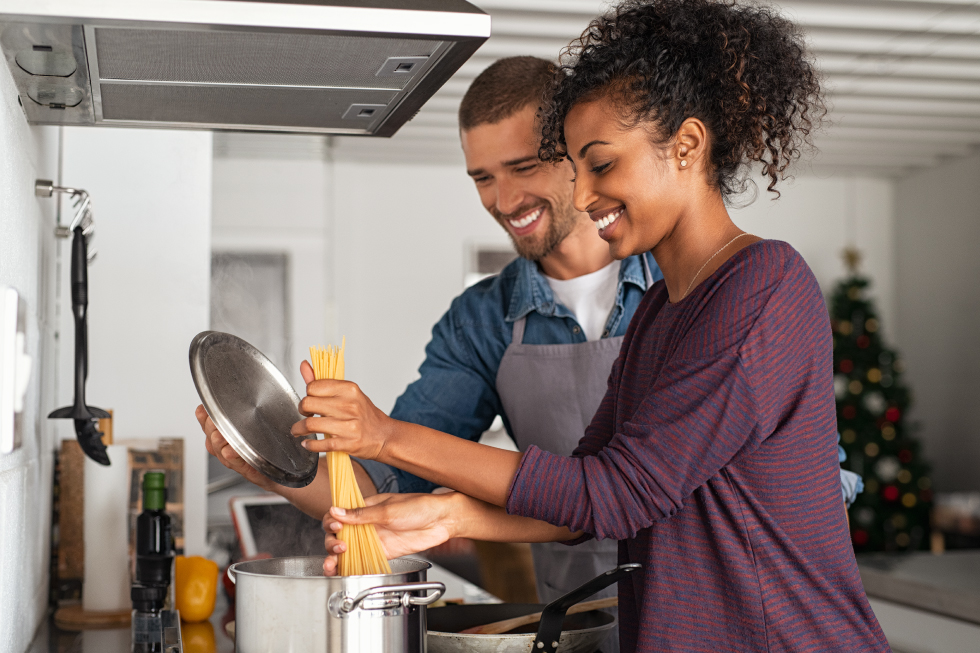 Renew Year: Cooking For 1 or 2

We share a lot of content on this blog. Everything from veggie filled dishes to delicious desserts, to no bake appetizers to 45 minute meals. But today we are tackling the topic of how to cook for one or two people. It can be challenging if coupled along with factors like time constraints, budget, knowledge, lack of desire to learn and so many more. Everyone has a barrier so if you are wanting to start cooking more here are our top tips to try putting into practice.
Time constraints

Schedule it out. Whether you schedule out time in your week to cook daily or make all of your meals on one day, find what works best for your ideal lifestyle. For example: I love recommending cooking up 1-2 proteins per week in large quantities to be utilized during the week. If there is extra they can be frozen and thrown into a dish. Mainly because this can cut down major time during weeknights. Another example would be to buy convenience items you like (pre-chopped onions, frozen vegetables, etc)

Budget

I love a good budget and checklist but my top favorite things to recommend when talking through this category are to: (1) Shop the front page of your weekly local ad and base your meals around those items; (2) Buy an extra package if it's a great deal on a staple item you use constantly; (3) Get creative on your methods. For example: DIY a salad dressing with olive oil and spices found in your cupboard, add in a meatless meal to your weekly rotation, or find pantry substitutions to get you through a meal.

Knowledge

Learn about 1 new technique per month. For example: how to cook an egg in a stainless steel pan, how to julienne a carrot, how to cook a potato in the microwave, etc. Practice makes you better at these individually skills and ultimately get you in the kitsch more

Lack of Desire

This is where you come to the table and lay out your cards – are you intrinsically or extrinsically motivated? Answer this, and you can determine your starting point. For more intrinsic motivators I like to suggest switching up the routine 1 day out of your week and letting it grow from there. For the extrinsic motivators I like to suggest let your fingers do the walking and put more of what you want to see in your life. For example, add a new food podcast to your day or find and follow a food social media account that resonates with your style.
There are many more obstacles than this and I bet you one of our Registered Dietitians has an idea for you. We love getting to connect with you so send us an email!