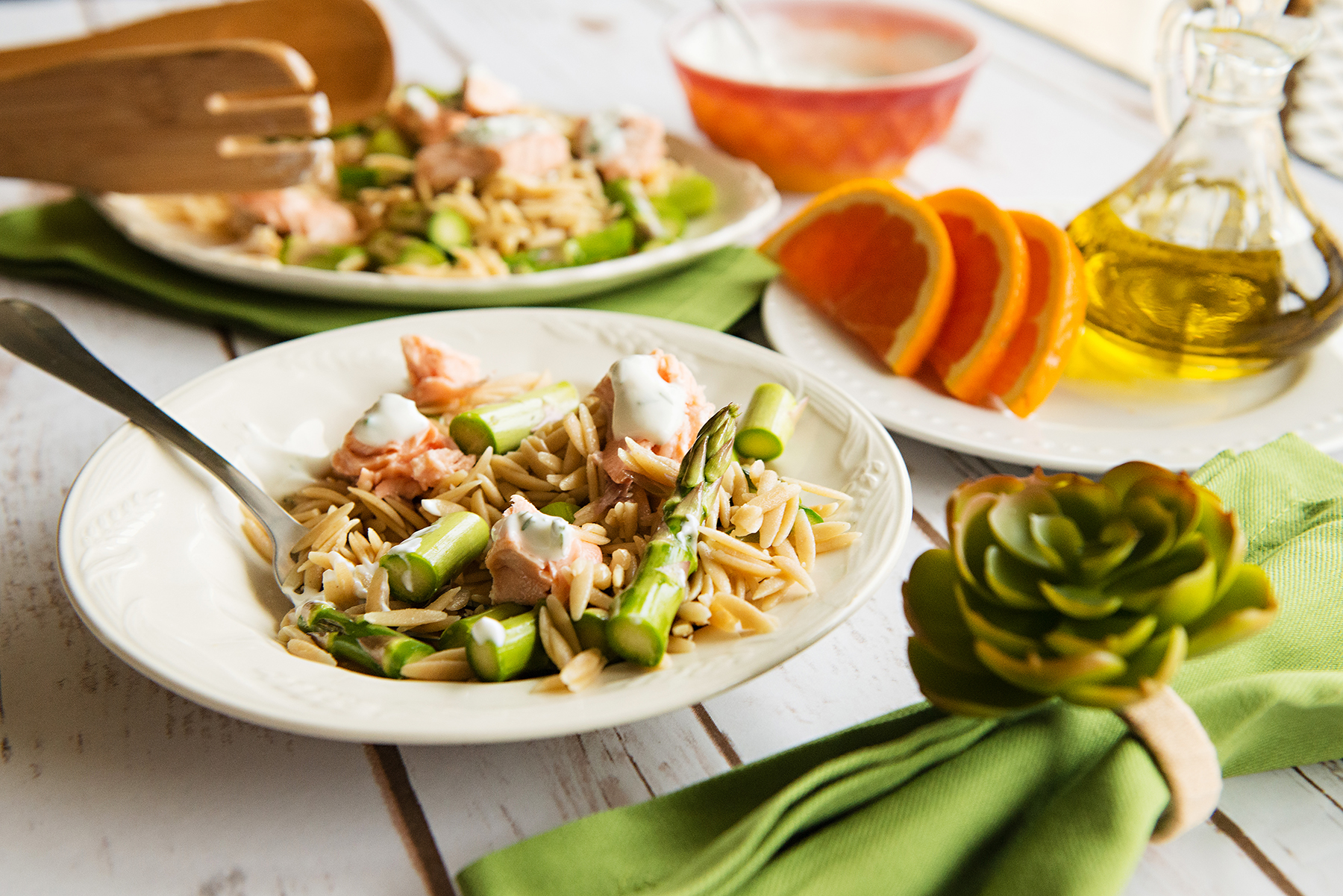 Salmon with Creamy Lemon-Dill Sauce

There's nothing better than the smell of a creamy seafood dish mingling with the chatter that comes with good company. Recreate this salmon recipe when you have a craving for Mediterranean-style bliss paired with a side of quality time.
What You Need:
3/4 lb salmon, fillet and skinned

1 Tbsp butter, melted

1/2 tsp and ½ tsp bottled minced garlic, divided

1/4 tsp and ¼ tsp salt and pepper, divided

1/2 lemon

1/2 cup plain Greek yogurt

1 Tbsp fresh dill (or 1 tsp dried), chopped

1 lb asparagus

1 cup orzo

1 Tbsp olive oil
 How It's Made:
Preheat oven to 425°F. Place salmon on a foil-lined baking sheet. Stir together melted butter, garlic, salt and pepper; brush over salmon. Bake 10 to 15 minutes or until salmon flakes with a fork.

Meanwhile, cut asparagus into 3-inch pieces. Cook orzo according to package directions, adding asparagus during last 2 minutes of cooking. Drain orzo, and place in a serving bowl. Add oil, garlic, salt and pepper; toss to combine.

Grate rind from lemon; juice lemon. Stir together yogurt, lemon rind, lemon juice, and dill. Serve with salmon and orzo.
Calories 461
Total Fat 18g
Chol 85mg
Protein 45g
Sodium 430mg
Total Carbs 35g
Fiber 7g
Sugars 8g
Ready to Start Shopping?
Get everything you need to make our Salmon with Creamy Lemon-Dill Sauce online or in-store!
Shop Online
Find My Store
Ready for a Second Helping of Health and Wellness?
Download our quarterly guide for an exclusive taste of the latest health and wellness trends, brought to you by Market Street's in-house nutrition experts.