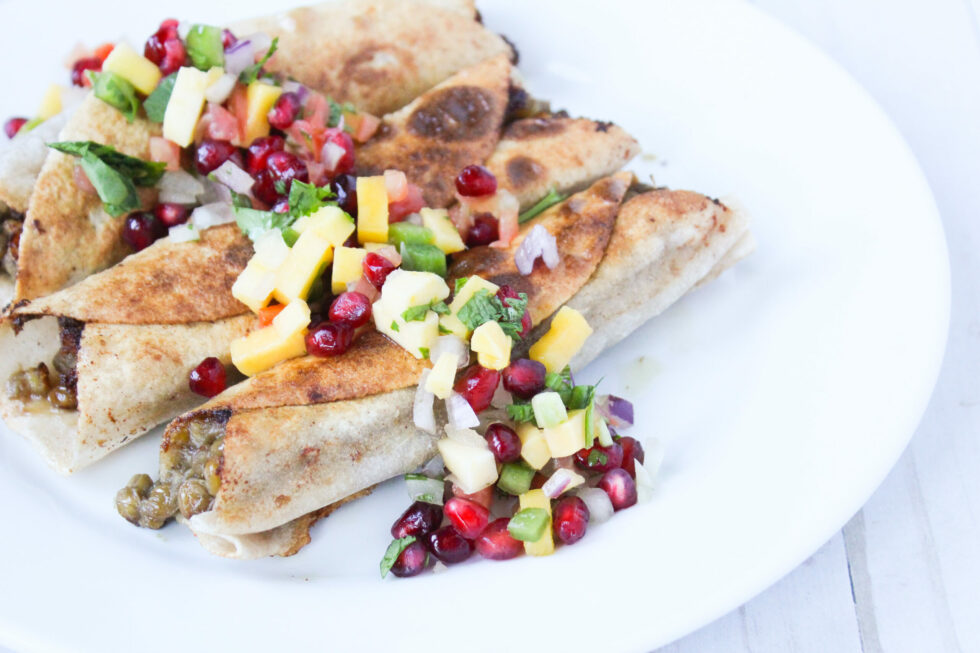 Salsa Verde Lentil Taquitos

We all start at different places when trying to change our eating habits and some things to think about for yourself before you do are time, budget, limitations and what your goals are. Check your digital deals for a $1 coupon of POM Wonderful Pomegranate Arils, 4oz (1/4/23-1/10/23) to get this recipe going in the right direction.
What You Need
1 C. Lentils
1 C. Salsa Verde
2 ½ c. Low Sodium Vegetable Broth
10 Siete Cassava Flour Tortillas
2 Tbsp Avocado Oil
½ pkg. Mango Pico De Gallo
1, 4oz Container, Pom Wonderful Pomegranate Arils
Salt and Pepper As Desired
Optional: Cotija Cheese, Greek Yogurt
 How It's Made:
In a large pot bring broth and salsa to a boil

Add in lentils and simmer gently with lid tilted until desired tenderness is reached (15-20 minutes)

In a small bowl mix together the mango pico de gallo and pomegranate arils

Evenly disperse lentil mixture amongst each tortilla and roll tightly , be gentle not to tear

In a pan heat avocado oil

Place the open seam side down first and flip after three minutes

Garnish with pico de gallo mixture, cilantro
Calories 232
Total Fat 8g
Cholesterol 0mg
Sodium 749mg
Carbohydrates 34g
Fiber 8g
Sugar 6g
Protein 5g
Ready to Start Shopping?
Get everything you need online!
Shop Online