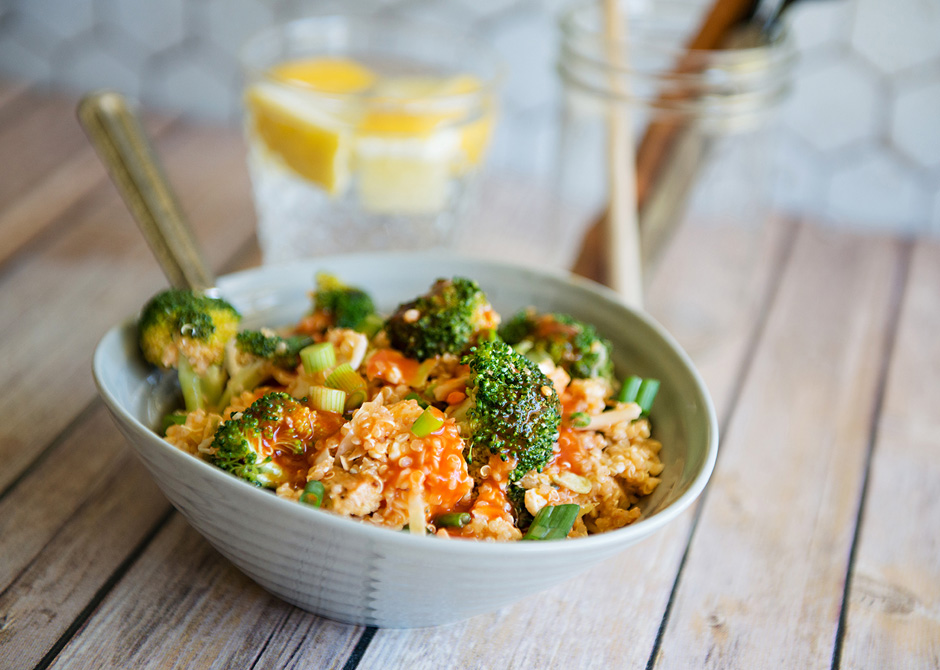 Shake Up Your Salad: Buffalo Chicken Quinoa Salad

Friends don't let friends eat boring salads. Turn up the heat on your green routine with this quick and easy lunchtime hero.
What You Need:
2 tbsp vegetable oil
2 boneless skinless chicken breasts, cubed
Salt and pepper, to taste
1 cup broccoli florets
1/4 cup olive oil
3/4 cup buffalo hot sauce
1 teaspoon onion powder
3 cups cooked quinoa
1 1/2 cup cabbage and carrot mix (coleslaw), shredded
1/2 cup blue cheese, crumbles, plus more for garnish
1/2 cup green onions, chopped, plus more for garnish
 How It's Made:
In a large skillet add vegetable oil, chicken, salt and pepper, and saute over medium‐high heat until chicken is just cooked through, about 5 minutes.
Add broccoli and sauté an additional 3‐4 minutes or until broccoli starts to soften, but is still al dente. In a small bowl combine olive oil, buffalo sauce, and onion powder. Stir in about half of dressing mixture into chicken, and cook until mostly absorbed, about 5 minutes.
In a large bowl, add chicken mixture, quinoa, carrots, cabbage, bleu cheese crumbles, green onions, and dressing, and toss well until evenly combined.
Serve with additional bleu cheese crumbles and green onions, and enjoy!
Calories 505
Total Fat 28g
Protein 31g
Total Carbs 29g
Fiber 5g
Added Sugars 3g
Sodium 950 mg
Chol 53 mg
Get Cooking!
Shop everything you need for buffalo chicken quinoa salad online or in-store!
Shop STREETside
Find My Store
Ready for a Second Helping of Health and Wellness?
Check out our lookbook for an exclusive taste of health and wellness trends, brought to you by Market Street's Registered Dietitians and lifestyle gurus.