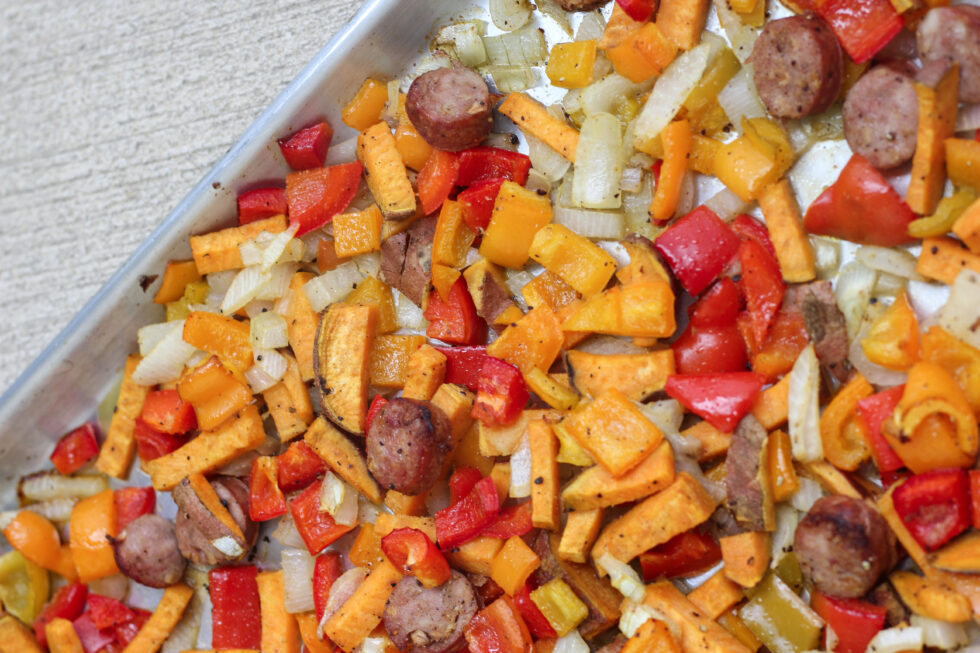 1 Sheet Pan Sausage and Peppers

Some weeknights we just want to make things easy as the at-home workday that some of us are experiencing can be pretty long. This light and vibrant dish is perfect for a quick weeknight entree.
What You Need
1 pkg. Chicken Apple Sausage

4 bell peppers, any color

1 medium onion

1 sweet potato

Optional: 1 head lettuce, 1 pkg whole grain buns

Optional Toppings: dijon mustard, sauerkraut, pickled onions
 How It's Made:
Preheat oven to 350 degrees
Spray pan with olive oil
Dice peppers, onions, and sweet potatoes into a similar size
Slice Sausages in coins
Cook for 30 minutes
Load ingredients into a salad, a hotdog or hamburger bun, or on a plate to enjoy
Add optional toppings
Calories 233
Total Fat 11g
Chol 75mg
Protein 15g
Sodium 682mg
Total Carbs 19g
Fiber 4.5g
Sugars 8.5g
Ready to Start Shopping?
Get everything you need online!
Shop Online