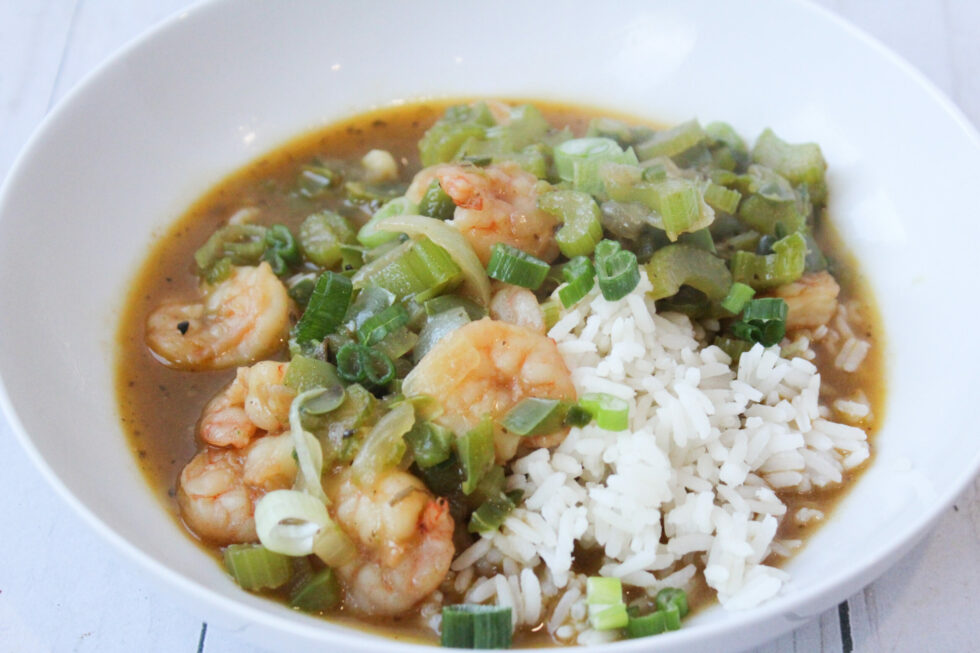 Shrimp Etouffee

Shrimp etouffee is a classic and we're here to lighten it up by adding in additional vegetables! This small twist can go a long way in terms of adding more nutrients and fiber to your dish as well as flavor.
What You Need
¼ c. avocado oil
¼ c. Whole Wheat Flour
½ large onion
1 green bell pepper
6 cloves garlic
2 celery ribs
1 Jalapeno
2 cups chicken bone broth
1 Tbsp. Cajun Seasoning
½ tsp. Celery Salt
½ tsp garlic powder
1 Tbsp. Paprika
Salt and Pepper as desired
2 lbs Shrimp
1 bunch, Green Onions
Hot Sauce as Desired
1 c. White Rice (or brown rice)
 How It's Made:
Bring a small pot of water to boil

Add rice and cook to the package directions

Dice onion

Dice bell pepper

Mince garlic

Slice celery

Dice jalapeno and seed half of it

Preheat stove to medium-high heat

In a large pot, bring the oil to a hot temperature and add the flour and combine until there are no lumps

Let the mixture get deeper in color for about 5 minutes. Stir frequently as to no stick to the bottom

Add onion, bell pepper, garlic, celery and jalapeno to a pot and coat with the rue

Place the top on and let it sweat for 5 minutes

Add in bone broth a little at a time to start the slurry process

Once all the liquid has been incorporated, add the spices and shrimp and stir

Place the lid back on for an additional 10 minutes and turn the heat to medium-low

Add any additional salt and pepper and serve as desired over rice
Calories 261
Total Fat 11g
Cholesterol 222mg
Sodium 1279mg
Carbohydrates 14g
Fiber 1g
Sugar 1g
Protein 25g
Ready to Start Shopping?
Get everything you need online!
Shop Online