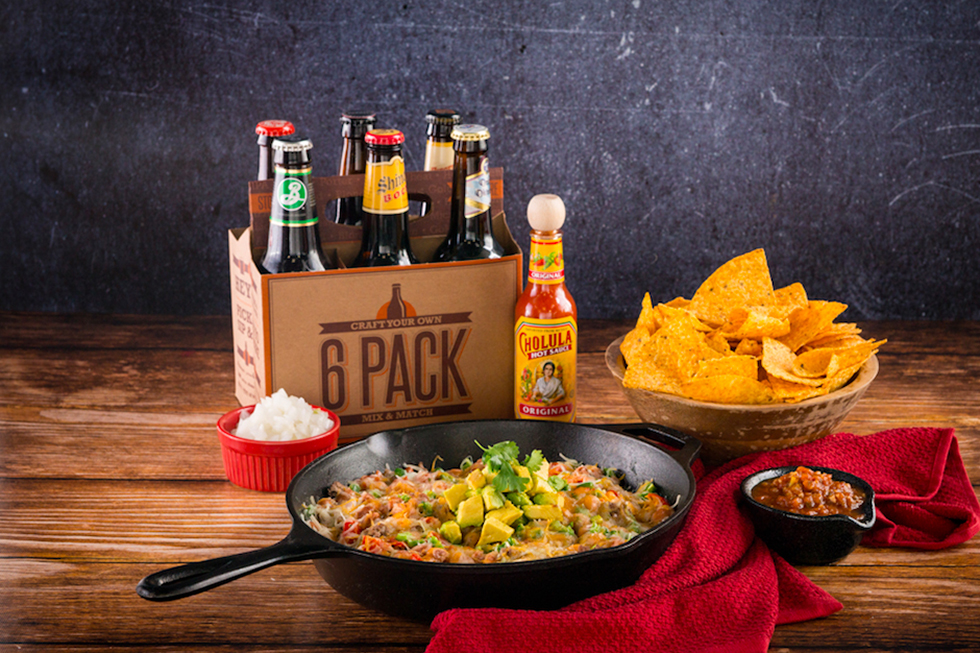 Light Skillet Nachos

Fact: Nachos are a staple of any get-together worth its weight in queso. Make 'em for your next watch party to keep spirits high through fourth quarter.
 How It's Made:
 Preheat broiler and coat a cast-iron skillet with olive oil. Heat the skillet to medium-high, then drop in onions and jalapeños to saut

é

for about four minutes. Add powdered ingredients (flour, chili powder, cumin) and cook for another minute while stirring.

 Add beef stock and bring to a boil. Once it's rolling nicely, drop the heat down to medium and stir in the crumbled patties and beans. After that's been cooking for about two minutes, stir in mozzarella and cook for about one minute or until the cheese is fully melted, remove from heat.

 Layer Mexican blend of cheese over the mix, add tomatoes, avocados, olives, and red onion.

 Top chips with mixture and enjoy your nachos!
Recipe Inspired By: cookinglight.com
Calories 334
Total Fat 20g
Chol 42mg
Protein 18g
Sodium 356mg
Total Carbs 23g
Fiber 4g
Sugars 2g
Ready to Start Shopping?
Get everything you need to make our Skillet Nachos online!
Shop Online