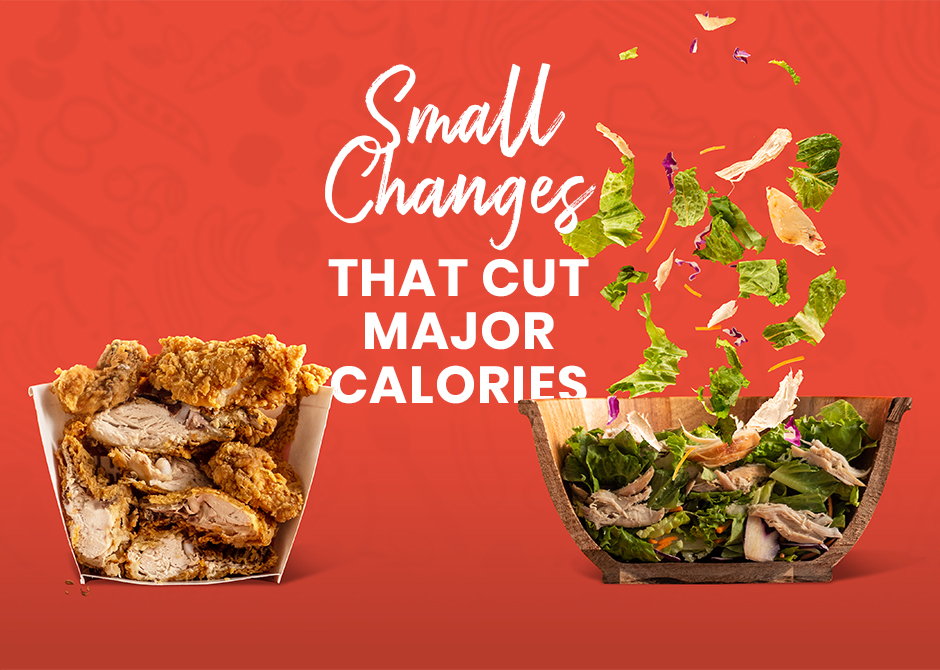 Small Changes That Cut Major Calories

So, you hate diets but made a resolution to shed a few pounds? You're not alone. While dieting can be restrictive and create a disproportion in your relationship with food, a few strategic cutbacks can do the trick without driving a wedge between you and your cravings. Dive into these clever cutbacks the next time your hankering tries to lead you down the path of unnecessary fat, calories, and #regret.

Pass up the drive-thru. This healthy swap packs all the savory flavor you're craving without the greasy aftermath.

YOUR GO-TO:
Double cheeseburger + small fries + small soda
1130 calories

HEALTHY CHOICE:
Rotisserie chicken + bag of steamable vegetables + a 5oz. glass of pinot noir
395 calories
WHY IT WORKS:
Not only are you slashing the calories, fat, and sodium—you're also adding a lean source of protein, good source of fiber, and heart-healthy antioxidants.

Skip the trip to the soda fountain and opt for a consciously sweet beverage instead.

YOUR GO-TO:
 Large soda
290 calories

HEALTHY CHOICE:
DIY half soda/tonic water or sparkling water
145 calories
WHY IT WORKS:
Cut the added sugar by subbing in calorie-free club soda! Having sugar from drinkable sources isn't a bad thing, but it's something to be mindful of if you're looking to cut sugar from your diet.

A box of chocolates might heal a broken heart, but it will also slow down your New Year's resolution progress.

YOUR GO-TO:
Chocolate candies
250 calories

HEALTHY CHOICE:
Chocolate-covered pretzels
190 calories
WHY IT WORKS:
Cut down on calories and satisfy your crunch craving at the same time!

An innocent splash of your favorite creamer might seem worth it at the moment, but this tiny splurge can sure add up!

YOUR GO-TO:
Sugar-sweetened coffee creamer
45 calories

HEALTHY CHOICE:
Put spices in with your grounds like pumpkin pie spice with a dash of cinnamon
0 calories
WHY IT WORKS:
Snap the added sugar without sacrificing flavor by opting for tasty, zero-calorie herbs instead!

If fried chicken is your vice, opt for grilled chicken instead.

YOUR GO-TO:
Family-sized fried chicken bucket
1800 calories

HEALTHY CHOICE:
2 cups salad + non-starchy vegetables + 3oz. grilled chicken from Market Street's salad bar
300-400 calories
WHY IT WORKS:
Picking grilled chicken instead of fried means you lose the extra calories without sacrificing flavor.  

Download our quarterly guide for a second helping of this season's biggest health and wellness trends!
Everything you need to embrace a healthy lifestyle is waiting online or in-store.