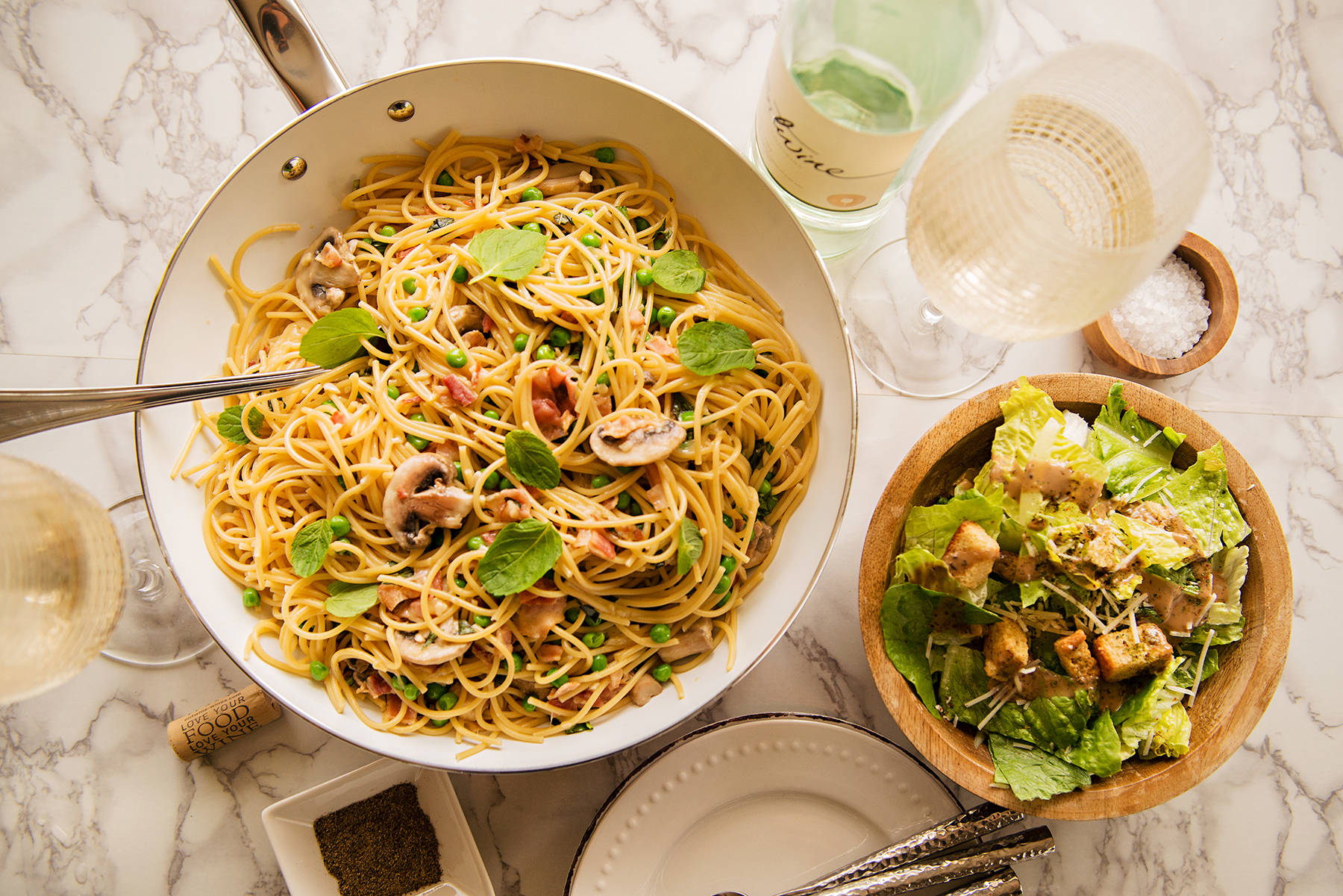 Spaghetti Carbonara

Roll up your sleeves and welcome the flavors of Italy to your kitchen with this healthy spin on a classic carbonara dish! Whether you're looking to shake up spaghetti night or for date night ideas, this recipe is the definition of "feel good food."
What You Need:
2 large eggs

1 cup frozen peas

8 oz mushrooms, sliced

1/2 cup fresh basil, finely julienned

1/4 tsp black pepper

6 oz pancetta or bacon, chopped

2 large cloves garlic, minced

3 Tbsps olive oil

1/2 cup white wine

1 tsp salt

3/4 lb spaghetti pasta

1 cup Parmesan cheese
 How It's Made:
Bring a large pot of water to boil. Meanwhile, in a large bowl whisk together the eggs, 1/2 cup Parmesan, peas, basil and pepper. Set aside.

Heat olive oil in a large skillet over medium-high heat. Add the pancetta and cook, stirring often, until it is browned. Spoon pancetta to side of pan and scoop out all the pancetta grease except for 1 Tbsp.

Add garlic and stir until fragrant—about 1 minute. Add wine and mushrooms and cook until liquid is reduced by about half. Remove from heat and set aside.

When water is boiling, add salt and spaghetti. Boil pasta until al dente. Scoop out 1/4 cup of the pasta water and set aside. Drain pasta, then immediately add pasta to bowl with egg mixture. Toss to coat pasta with egg mixture and incorporate ingredients throughout (the heat from the pasta will sufficiently cook the egg and melt the cheese).

Add pancetta mixture to pasta and toss to combine.

Serve immediately. Sprinkle individual servings with remaining Parmesan cheese and freshly ground black pepper.
Calories 414
Total Fat 18g
Chol 84mg
Protein 19g
Sodium 454mg
Total Carbs 46g
Fiber 3g
Sugars 4g
Ready to Start Shopping?
Get everything you need to make our Spaghetti Carbonara online or in-store!
Shop Online
Find My Store
Ready for a Second Helping of Health and Wellness?
Download our quarterly guide for an exclusive taste of the latest health and wellness trends, brought to you by Market Street's in-house nutrition experts.