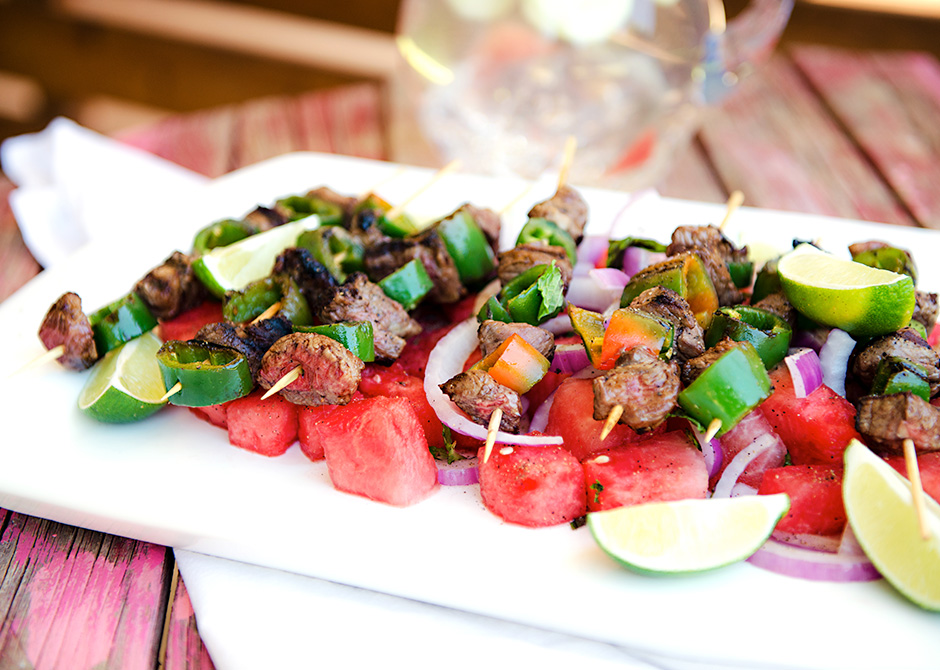 Spicy Beef Kebabs & Watermelon Salad

Fire up the grill and get to chopping because these spicy beef kebabs are best served flaming hot and alongside fresh-cut watermelon!
1/4 medium watermelon, cut into pieces (seedless watermelon)
1/4 red onion, thinly sliced
1/2 cup fresh mint leaves
Salt and pepper, to taste
1 1/2 lbs tri-tip or sirloin steak, cut into 16 pieces (sirloin)
8 jalapeno peppers, cut into 1″ rings
1 lime, cut into wedges
Beef Kebabs:
Heat grill to medium-high. Soak 8 wooden skewers for 10 minutes.
Thread the beef and jalapeños onto skewers and season with ½ teaspoon each salt and pepper.
Grill, turning frequently, 6 to 8 minutes for medium-rare. Serve with the lime wedges and watermelon salad.
Watermelon Salad
Arrange the watermelon on a plate.  Sprinkle with the onion, mint, and ¼ teaspoon each salt and pepper. Set aside.
Calories 371
Fat 14g
Protein 37g
Total CHO 26g
Fiber 2g
Added Sugars 19g
Sodium 167mg
Chol 98mg
Start Shopping!
Get everything you need to make Italian sub salad online or in-store!
Shop STREETside
Find My Store
Ready for a Second Helping of Health and Wellness?
Download our quarterly guide for an exclusive taste of the latest health and wellness trends, brought to you by Market Street's in-house nutrition experts.