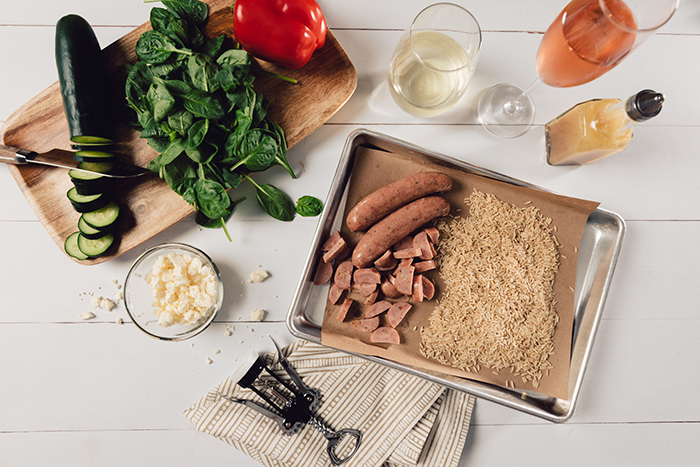 Spinach Feta Rice Salad with Chicken Sausage

If you have a food allergy, eating out or going to dinner with family and friends can be a bit stressful. Did the person that prepared the food really make sure that the dish did not come in contact with something I'm allergic to? What if they didn't even know? While these situations can be risky, a fool-proof solution would be to volunteer to bring your own dish. The salad below would be the perfect dish to bring to your next dinner party with friends!

This salad is loaded with plenty of nutrients that are both tasty and fulfilling. The whole grains from the rice add fiber which helps you feel full and energized. Mixing in veggies helps decrease the amount of carbs while providing a variety of textures and plenty of vitamins and minerals.  Lastly, the protein in the chicken sausage makes this a hearty meal suitable for any occasion.

Spinach Feta Rice Salad with Chicken Sausage

 

Ingredients:

• 1 package Open Nature Italian Chicken Sausage (fully cooked)

• 3/4 cup uncooked brown rice

• 2 cups fresh spinach, sliced

• 1 cup chopped cucumber

• 1 medium red sweet pepper, chopped

• Wishbone Garlic-Herb Vinaigrette

• 1/4 cup crumbled reduced-fat feta cheese

Directions:

1. Cut sausages in half lengthwise. Thinly slice sausage halves crosswise. Cook rice according to package directions, omitting any added salt and adding the sausage during the last 3 minutes of cooking. Let rice cool about 15 minutes.

2. Stir in spinach, cucumber, and pepper. Drizzle with Garlic-Herb Vinaigrette. Toss to coat.

3. To serve, divide salad among four serving plates. Sprinkle with feta cheese.
Ready to Start Shopping?
Get everything you need to make our Spinach Feta Rice Salad with Chicken Sausage online or in-store!
Shop Online
Find My Store
Ready for a Second Helping of Health and Wellness?
Download our quarterly guide for an exclusive taste of the latest health and wellness trends, brought to you by Market Street's in-house nutrition experts.