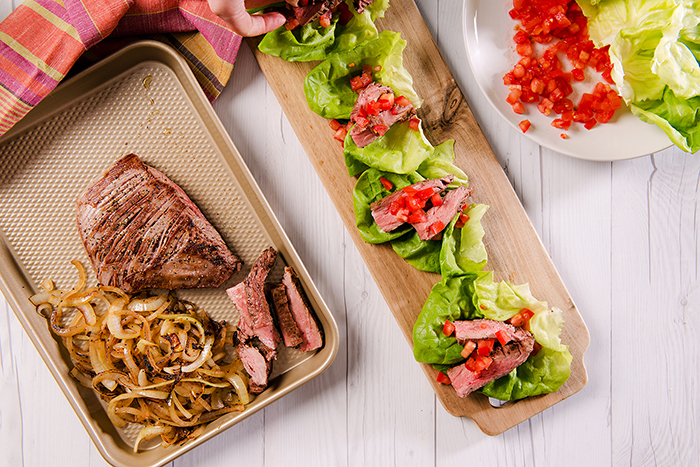 Steak and Cheese Wraps

We've all been there, sitting down to plan out meals for the week, but having no inspiration for what to prepare. After perusing some cookbooks, blogs, or Pinterest, you finally resort to those recipes you know by heart and can prepare in your sleep. However, the more you make these recipes, the more lackluster they taste. We dietitians can definitely relate to that feeling, so we're working hard to bring you recipe ideas that you can have on the table in 30 minutes or less, perfect for those times when you're recipe searching. These simple, but tasty lettuce wraps really satisfy without making you feel stuffed.

The steak is flavorful, simply seasoned with just salt and pepper, but can easily be jazzed up with your favorite marinade or seasoning. Still missing those complex carbohydrates? Substitute the lettuce leaves with small corn or whole-wheat tortillas.

Not only is this recipe quick and super simple, it is very versatile and can easily be customized with your favorite veggies or cheese. Change up the toppings with fresh pico de gallo and cojita cheese, cherry tomatoes and crumbled blue cheese or your favorite peppers and pepper jack cheese.

Remember to let the steak rest for 5-10 minutes before cutting to retain the juices and to cut against the grain to increase the tenderness.

Keep an eye out in the coming months for more of our dietitian-approved meal ideas that can add a little flare to your weeknight meals and help you Build a Better Meal this year!
What You Need:
1 ½ lb flank steak
salt and pepper to season
12 butter lettuce leaves
½ cup thinly sliced white or yellow onion
1 cup shredded mozzarella
1 cup diced tomatoes
 How It's Made:
1) Coat grill pan with cooking spray and preheat to medium-high.
2) Season both sides of steak with salt and pepper. Place steak on hot pan and cook 3-5 minutes on each side. Note: Steak may also be broiled in the oven on high for 3 minutes on each side for medium-rare.
3) Stuff each lettuce leaf or tortilla with steak, onion, tomato and cheese.
Calories 373
Total Fat 23g
Chol 108mg
Protein 36g
Sodium 346mg
Total Carbs 4g
Fiber 1g
Sugars 4g
Ready to Start Shopping?
Get everything you need to make our Steak and Cheese Wraps online or in-store!
Shop Online
Find My Store
Ready for a Second Helping of Health and Wellness?
Download our quarterly guide for an exclusive taste of the latest health and wellness trends, brought to you by Market Street's in-house nutrition experts.