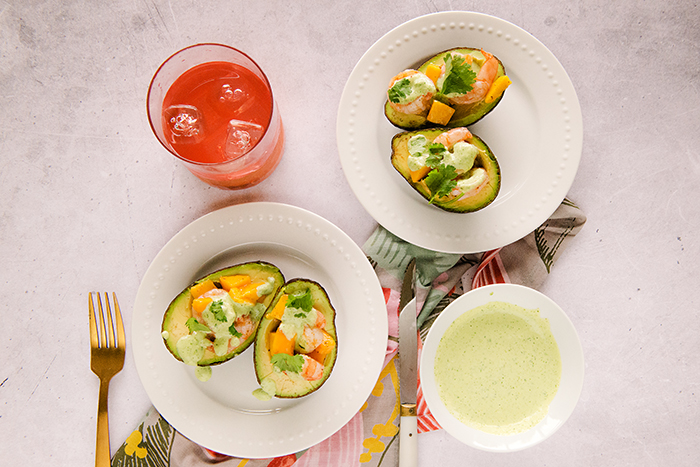 Stuffed Avocado with Shrimp & Mango

This sweet and savory stuffed avocado recipe will bring you a bite of summer (even if it's still spring)
What You Need:
1 jalapeño pepper, stemmed (deseeded for milder sauce)

¼ cup fresh cilantro (leaves and stems)

½ cup avocado oil mayo

¼ cup extra-virgin olive oil

1 Tbsp avocado oil or olive oil

1 shallot, minced

½ tsp bittersweet smoked paprika

Sea salt and freshly ground black pepper, to taste

3 Champagne mangos, chopped*

3 scallions, trimmed and sliced

Half a lime

4 large avocados, halved, pits removed

Chopped cilantro, for serving

1 lb raw shrimp (40-50ct), peeled & tails removed
 How It's Made:
Pulse jalapeño, cilantro, mayo, and lime juice in a food processor until blended, adding olive oil in a steady stream. Season with sea salt to taste and set aside.

Heat a large skillet with oil over medium heat. Add shallot and cook, stirring occasionally for 2-3 minutes.

Add garlic and cook until fragrant. Raise heat to medium-high and add shrimp, paprika, salt and pepper. Allow the shrimp to cook for three minutes, then flip over and cook for two minutes, or until cooked through. Remove from heat and stir.

Transfer the shrimp to a bowl and add mango chunks, sliced scallions, and a squeeze of lime.

Spoon the shrimp and mango filling into avocado halves. Serve topped with chopped cilantro and the jalapeño aioli.
Calories 386
Total Fat 27g
Chol 193mg
Protein 24g
Sodium 777mg
Total Carbs 23g
Fiber 8g
Sugars 6g
Ready to Start Shopping?
Get everything you need to make our Stuffed Avocado with Shrimp & Mango online or in-store!
Shop Online
Find My Store
Ready for a Second Helping of Health and Wellness?
Download our quarterly guide for an exclusive taste of the latest health and wellness trends, brought to you by Market Street's in-house nutrition experts.