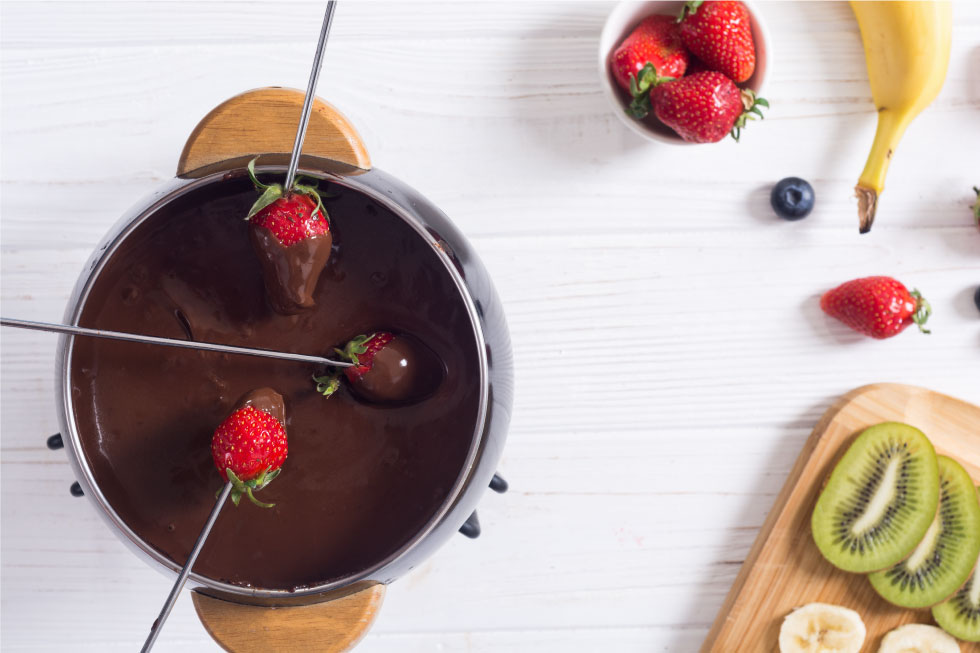 Sweet And Savory Fondue

Fondues might have been the original charcuterie. That's quite a statement, we know. Think about it though. Delicious cheese(s) paired with fruits, vegetables, meats, and breads. This is an excellent way to elevate your 2022 charcuterie board even if you don't have a fondue pot, you can use a small to medium cast-iron skillet.

Savory Fondue

INGREDIENTS
1/3 lb Gruyere

1/3 lb  Swiss

1/3 lb  Gouda

1 Tbsp. + 1 tsp. Cornstarch

1 c. Dry White Wine

2 cloves Garlic, minced

1 Tbsp. Lemon Juice 

1 tsp. Dijon Mustard 

Dash Nutmeg

Ground Black Pepper as desired

Optional: 1 Tbsp. Brandy
DIRECTIONS
Grate all of the cheeses

In a bowl, combine the cheeses with the cornstarch, and toss to coat evenly

In a saucepan over medium-low heat, bring the wine, garlic, and lemon juice to a simmer

Add the cheeses to the liquid mixture a little at a time, stirring between each addition to ensure a smooth fondue. Once smooth, stir in the mustard, and nutmeg (and optional brandy)

Pour the fondue into a bowl, fondue pot 

Arrange dipping options on a platter. If necessary, carefully pour the fondue into a fondue pot or . Dip and enjoy!
DIPPER OPTIONS
ReadyMeals roasted baby potatoes  

Ready Meals broccoli florets 

Fresh-Cut Asparagus

Cherry tomatoes 

Carrot Sticks

Radishes

ReadyMeals Grilled chicken

ReadyMeals grilled shrimp

Fresh-Cut Apples

Bakery Sourdough Bread, cubed
Sweet Fondue
INGREDIENTS
6 oz. Lily's dark chocolate chips

4 oz. Skinny Dipped dark chocolate sea salt chips

½ c. Fairlife 2% milk

1.5 Tbsp. unsalted butter

1/2 teaspoon pure vanilla extract
DIRECTIONS
In a microwave safe bowl add all ingredients and microwave in 20 second increments until melted

For a thinner consistency add more milk as desired
DIPPER OPTIONS
ReadyMeals cheesecake

Strawberries

Bananas

Clementines

Fresh-Cut Apples

Fresh-Cut Pineapple

Pretzel Thins

Kodiak Cakes Graham Crackers

Dandies Marshmallows

Bakery plain vanilla cake

Bakery Angel Food Cake
Both recipes make enough for s small galentine's or valentine's get-together, about 8-10 people!