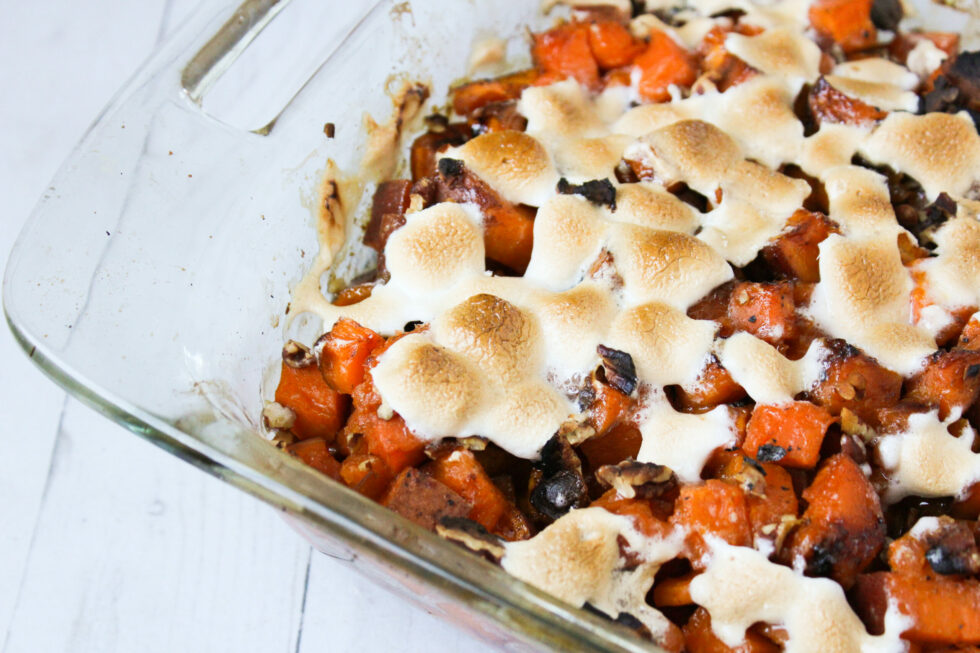 Sweet Potato Casserole

Take your sweet potato casserole up a notch with this lighter rendition without skimping on flavor. We love our carbohydrates as dietitians and always advise you to get in your good dose of them too. During the holidays you might find yourself overloading on them so be sure to check your portions and lighten up when and where you want to.
What You Need
3 lbs Sweet Potatoes
2 Tbsp. Brown Sugar
3 Tbsp. Melted Butter
2 Tbsp. Ultrafiltered Milk
½ tsp. Salt
¼ tsp. Pepper
1 tsp. Cinnamon
¼ tsp. Nutmeg
1 tsp. Vanilla Extract
2 c. Mini Marshmallows
½ c. Pecans
 How It's Made:
Preheat oven to 375 degrees

Cube sweet potatoes in ½ inch cubes

In a bowl melt butter

Add milk, sugar, salt, pepper, cinnamon, nutmeg, vanilla and combine

Heat mixture for an additional 30 seconds

Place the potatoes in a 9×13 glass pan

Pour over the mixture and toss to coat evenly

Bake for 50 minutes

Preheat oven to 450

Roughly chop pecans

Sprinkle the marshmallows and pecans evenly over the top

Place back in the oven for 5-10 minutes or until desired golden brown in achieved
Calories 363
Total Fat 11g
Cholesterol 16mg
Sodium 335mg
Carbohydrates 63g
Fiber 7g
Sugar 22g
Protein 4g
Ready to Start Shopping?
Get everything you need online!
Shop Online