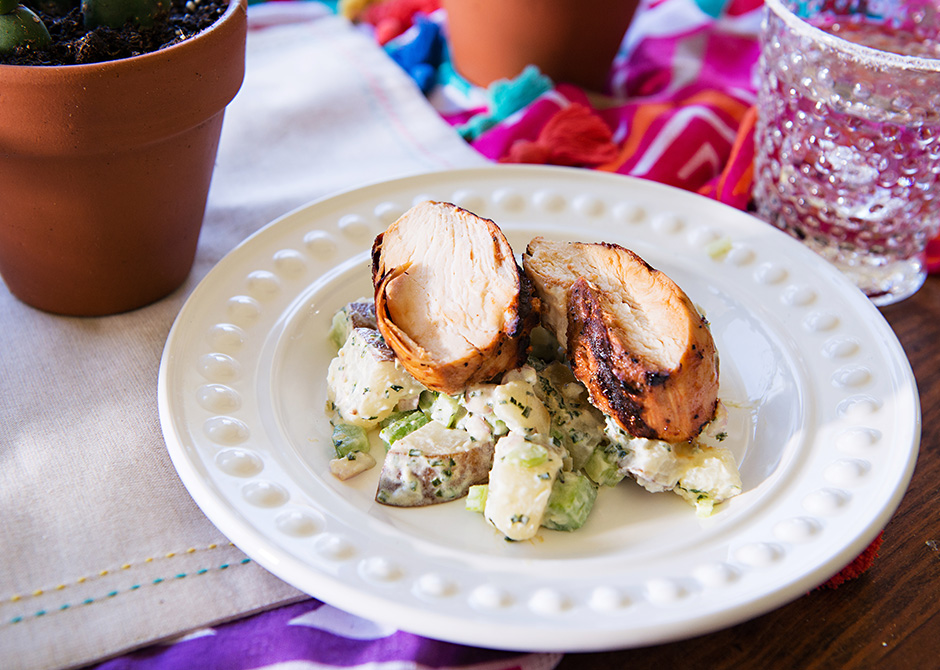 Texas Tumble Chicken and Potato Salad

Ditch the mayonaise. This side dish is big on flavor, not fat.

Serving Size: 6
What You Need:
2 lbs potatoes, washed and cubed
1/4 cup shallots, minced
1/2 cup celery, diced finely
1/2 cup Siggi'sⓇ plain 0% yogurt
1/4 cup apple cider vinegar
2/3 cup chives, finely minced
2 dashes of hot sauce
1 Tbsp. whole grain mustard
Salt and pepper, to taste
Texas Tumble Chicken, flavor of choice
 How It's Made:
In a medium saucepan, cover the potatoes with cold water. Season with salt and bring the potatoes to a simmer until tender when poked with a fork. Drain, and allow potatoes to cool.
While potatoes are boiling, prepare the grill or preheat a grill pan over medium-high heat.
In a medium mixing bowl, combine shallots, celery, yogurt, apple cider vinegar, chives, hot sauce and whole grain mustard. Whisk until smooth and season with salt and pepper to taste. Toss the potatoes into the dressing and season with salt and pepper to taste.
Grill chicken for roughly 5 minutes per side, depending on thickness. Internal temperature should reach 160-165 ℉.
Allow chicken to cool, then shred with two forks.
Mix chicken into the potato salad and enjoy!
Calories 424
Fat 5g
Protein 48g
Total Carbs 66g
Fiber 17g
Added Sugars 13g
Sodium 493 mg
Chol 38 mg
Start Shopping!
Get everything you need to make our Texas tumble chicken and potato salad online or in-store!
Shop STREETside
Find My Store
Ready for a Second Helping of Health and Wellness?
Download our quarterly guide for an exclusive taste of the latest health and wellness trends, brought to you by Market Street's in-house nutrition experts.