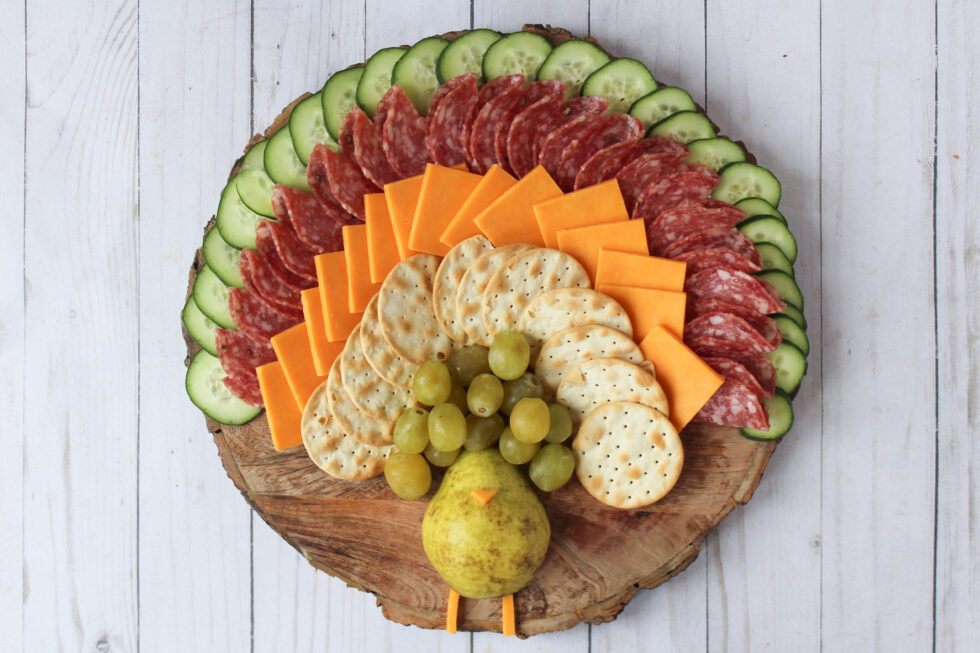 Turkey Charcuterie

This kid friendly appetizer will wow your littles and your bigs and come together in no time with a few simple ingredients that everyone is sure to gobble up!
What You Need
½ pear
¾ medium cucumber
½ c. green grapes
15 pre-sliced Lucerne cheddar cheese
5oz pre-sliced salami (about 
½  pkg water crackers
 How It's Made:
Cut a pear in half

Slice cucumber in coins 

Place cucumbers on a circular plate/dish/cutting board in a rainbow arch

Fold salami slices in half and place on the board in a rainbow arch only covering ¼ of the cucumber line

Next layer in the cheese slices with the "corner" pointed up

Next Layer in the crackers

Before placing the grapes place the pear 1 ½ inches from the lowest like of the crackers

Fill in the space with grapes

If you're feeling more festive you can add little cheese legs and a beak to the pear
Calories 221
Total Fat 14g
Protein 12g
Sodium 564mg
Fiber 1g
Carbohydrates 13g
Ready to Start Shopping?
Get everything you need online!
Shop Online