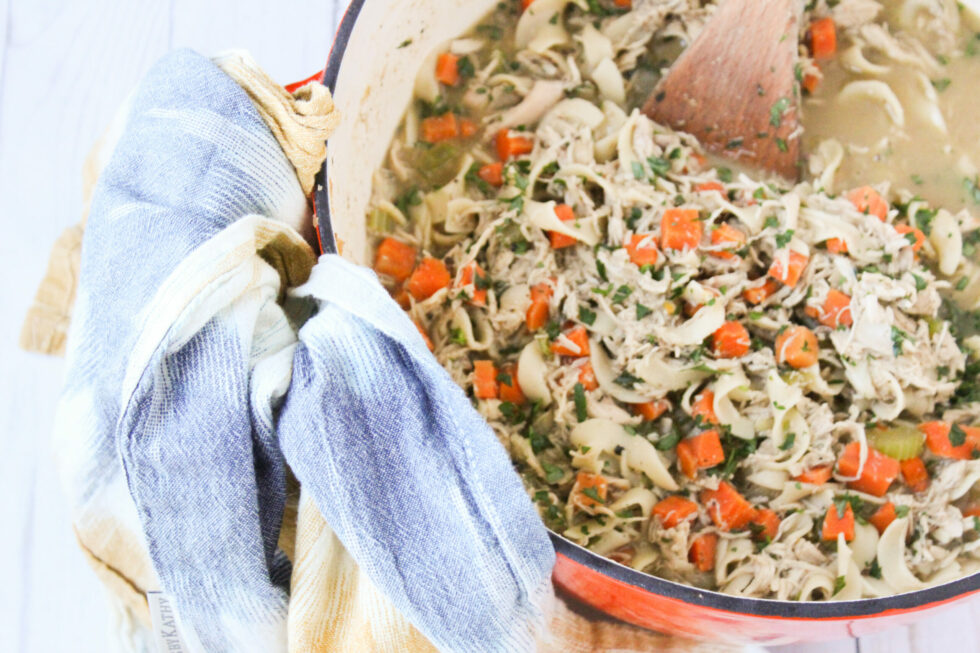 Turkey Soup Leftovers

This leftover turkey soup is a nod to the classic chicken noodle but with lightening it up with egg noodles, and adding more protein with the bone broth. It freezes so well if you're really done with eating turkey for a few days and a fun freezer find when you reach the point in the holidays where cooking doesn't sound fun. Leftovers for the win!
What You Need
1 Tbsp. Olive Oil
1 lb Shredded Turkey
6 c. Unsalted Chicken Bone Broth
4oz Egg Noodles
¼ Dried Sage
½ tsp. Thyme
½ tsp Red Pepper Flakes
1 tsp. Garlic Powder
2 Bay Leaves
1, 16oz bag carrot sticks
4 Stalks Celery
½ Medium Onion
¼ c. Parsley
Salt and pepper to taste
 How It's Made:
Dice onion

In a large stock pot over medium heat, pour in olive oil, onion, sage, thyme, red pepper flakes, garlic powder, bay leaves

Dince celery and carrots and add to the pot

Saute for 5-10 minutes

Add in shredded turkey and bone broth and bring to a simmer

Add in egg noodles and cover for 5-10 minutes

Mince Parsley and stir in most leaving a little for garnish
Calories 326
Total Fat 9g
Cholesterol 6mg
Sodium 560mg
Carbohydrates 18g
Fiber 1g
Sugar 1g
Protein 35g
Ready to Start Shopping?
Get everything you need online!
Shop Online